One of the South African cities that hosted the FIFA World Cup 2010, Johannesburg is a city of contrasts. Just a short drive out of the city of Johannesburg is the "Cradle of Humankind" – now a UNESCO World Heritage site – where some of the oldest hominid fossils were found some 3.5 million years ago. The city also boasts world-class shopping and dining, and Africa's busiest airport.
Johannesburg has a well-developed higher education system, and can offer students an opportunity to become part of what is undoubtedly one of the world's most diverse and vibrant cities. The city has two universities, one of which – University of the Witwatersrand, an 88 year old research intensive university – is ranked internationally.
Johannesburg, affectionately known as Jo'burg, Jozi, Egoli, and City of Gold, is the largest and most populous city in South Africa. It is the provincial capital of Gauteng, the wealthiest province in South Africa and the fourth largest economy in Sub-Saharan Africa, and the financial, economic and cultural centre of South Africa. Johannesburg is one of the 40 largest metropolitan areas in the world and Africa's only officially designated global city. It has its roots in gold and diamond mining due to its location on the mineral-rich Witwatersrand range of hills.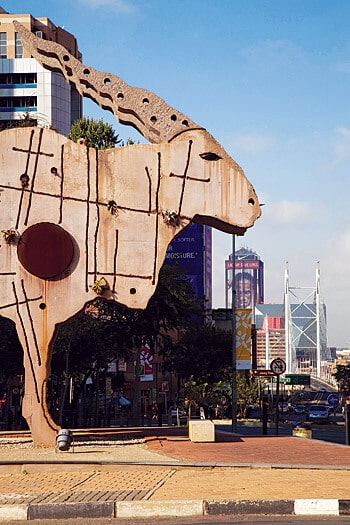 The Constitutional Court, South Africa's highest court, is located in Johannesburg. The city occupies a rich place in the country's history and houses several history museums. While the Apartheid Museum and the Hector Pieterson Museum chronicle the rise and fall of Apartheid, the Origins Centre takes visitors on an extraordinary journey discovering the origins of humankind in Africa. In Soweto, South Africa's largest township, visitors can find the famous Vilakazi Street, the only street in the world to have been the address for two Nobel Prize winners: Nelson Mandela and Archbishop Desmond Tutu.
Johannesburg has several art museums, galleries and theatres and hosts a number of cultural festivals throughout the year. Serviced by Africa's largest and busiest airport, Johannesburg provides a travel gateway to neighbouring countries such as Botswana, Lesotho, Mozambique, Namibia, Swaziland, Zimbabwe, and the rest of the continent. The Kruger National Park, Africa's largest wildlife reserve, is only a few hours' drive away.
During the recent FIFA 2010 World Cup held in South Africa, Johannesburg hosted both the opening and closing ceremonies and witnessed World Cup history being written in two newly renovated stadiums: Ellis Park and Soccer City. Other popular sports in the city include cricket and rugby and, with five golf courses, Johannesburg is also a golfer's paradise. The City offers sports enthusiasts a range of facilities for indoor and outdoor activities.
Contributed by:
Mrs Samia CHASI (MA, MPhil)
Manager International Partnerships
University of the Witwatersrand, Johannesburg
www.wits.ac.za