Monterrey, Mexico's third largest city and the so-called "Sultan of the North" is, in fact, a truly surprising city. A powerhouse of business and industry, this city is one of the most important production and trade centers in the country. But there is much more to Monterrey than just business and industry.
A modern, well-planned city that is easy to navigate and full of cultural offerings, Monterrey is populated by friendly and helpful people, who are eager to present their city as the most advanced city in Mexico. Monterrey's population of over one million (three million in the urban area) is the most educated in Mexico and the city, on a per capita basis, has more colleges, universities and institutes of technology than any other Mexican city. An example of this city's progressive stature is the fact that over twenty per cent of Mexico's computers are said to be located in Monterrey.
In the city and its surrounds, you can find all of the amenities that are associated with the convenience that a large city offers. Quality restaurants, modern shopping malls, numerous museums, social opportunities, educational facilities, and cultural attractions abound here.
Monterrey has enough attractions to keep its visitors on a busy schedule. There are bullfights and rodeos at various locations and times throughout the year. Soccer is big in Monterrey and the city has several large stadiums, where you can catch a professional soccer game. Scattered around the countryside that surrounds Monterrey are various rivers, some with spectacular waterfalls, and several natural hot springs. The surrounding mountains offer attractions too numerous to list.
There are cultural activities of different types in different venues being presented almost every day, all year long. Live concerts, from classical to rock, featuring big name performers, are a regular occurrence in Monterrey. Try to find a copy of "What's on in Monterrey" in a hotel lobby or local restaurant for an up-to-date listing of current attractions.
The mountains, canyons and desert that surround the city offer pleasant diversion and a wide variety of activities, many of which are not readily available anywhere else in Mexico. Some of the Mexico's best hiking, mountain biking, cave exploring and nature areas are located within fairly close proximity to the city.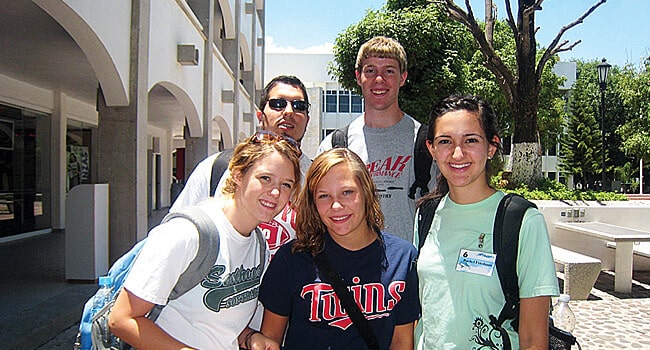 Two parks stand out as excellent places to spend some of your leisure time. Parque Fundidora is a giant park adjacent to the city's modern Expo and Convention Center. Located close to the physical center of the city, this is a great place to relax, get some exercise or to just get away from it all.
There are large green areas along with historical remnants, a museum and various other entertainment venues. Bicycles are available for rent within the park and there are miles of trails. While you are in the park, take the time to visit the ultra modern Expo Center, which is open to the public if there are no expositions taking place.
Chipinque National Park offers a very pleasant location for many outdoor activities and is very close (15 minutes) to the city center. This park is an excellent place to relax or get some exercise. Jogging, hiking, mountain biking and just plain walking along the roadway or the well-kept trails within the park are very popular with the locals. There is a nice hotel, high in the mountains, with a great restaurant that offers some pretty fantastic views. A log cabin style complex, near the entrance of the park, features a restaurant and a convenience store, which sells picnic supplies and souvenirs.
The nightlife in Monterrey is somewhat different than visitors might expect in a town of this size. The nightlife is certainly plentiful and varied enough, although the closing hours seem to be somewhat subdued compared with many Mexican cities. Opera, ballet and theatre seem to be as common as the high-energy disco and drinking establishments. Piano bars, jazz and blues seem to be every bit as available as rock and disco.
In Barrio Antiguo there are numerous small clubs, intimate cafes and upscale discos. Live concerts, featuring international names as well as Mexican entertainers, are very popular in Monterrey. Rodeo style "theme nightclubs" are very popular here as well, featuring live entertainment or "Norteno" disco style music.
In Monterrey you are spoilt for options on how to spend your spare time with your friends and classmates.
Source: www.allaboutmonterrey.com