The Finnish institutions of higher education offer a generous choice. We have an extensive network of institutions covering the whole country, from the southern metropolitan area to the Arctic Circle. All institutions are internationally oriented with special regional features: Students can choose between very different study environments, ranging from large urban campuses to close-to-nature campuses.
Finland is situated in northern Europe, neighbouring Sweden, Norway and Russia. It is a country and culture where East meets West under the special Nordic influence. It is a member of the EU where it represents Nordic democracy and its way of living. With this combination of Western and Eastern influences, Finnish culture has developed into something strong and highly individual.
Finland is a peaceful, well-organized country where English is widely spoken. It is a global leader in information technology, and it has one of the most advanced education systems in the world.
Higher Education Consists of Two Parallel Sectors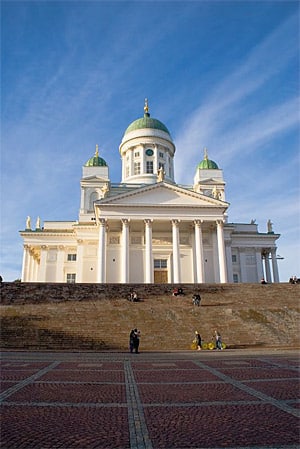 Finland's higher education system consists of two complementary sectors: Universities and Polytechnics.
Finnish universities promote free research and scientific and artistic learning, and provide higher education based on research. All 20 universities are owned and funded by the state. Ten universities are multi-faculty universities, three are universities of technology, three are schools of economics and business administration, and the remaining four are art academies.
The number of degree students at Finnish universities in 2007 was approximately 176,000, of which close to 5,900 were international degree students.
Universities confer Bachelor's and Master's degrees and at the postgraduate level, Licentiate's and Doctor's degrees. All degrees are measured in ECTS credits. Bachelor's degrees are worth 180 credits and take three years. Master's degrees are worth 120 credits, and take two years to accomplish. A Doctor's degree normally takes four years of full-time study.
Finnish polytechnics – most of which define themselves as universities of applied sciences – were established to meet the changing requirements and developmental needs of the world of employment.
There are 26 polytechnics operating in the fields of humanities and education; culture; social sciences, business and administration; natural sciences; technology, communication and transport; natural resources and the environment; social services, health and sports and tourism; and catering and domestic services.
In 2006 there were approximately 132,000 students at polytechnics. In 2007 the amount of international degree students at polytechnics was over 5,400 and is on the increase.
Polytechnic degrees are Bachelor's and Master's degrees. Bachelor's degrees are worth 210–240 ECTS credits, and take from 3.5 to 4.5 years to accomplish. After three years of work experience a student may take a Master's degree (60–90 credits).
Independent Work in a Relaxed Atmosphere
Institutions provide over 400 English-speaking degree and non-degree programmes. Internationally-acclaimed Finnish expertise and know-how in ICT, biotechnology, forestry and environmental sciences, architecture and design are present in these international programmes.
Studying in Finland is generally regarded as relatively unregimented. The relationship between students and teachers in Finland is relaxed and informal, and teachers are easy to approach.
All students have the right to use the libraries of institutions freely and all institutions provide their students access to the internet. Computers with internet access are available at university libraries or computer centres.
In Finland, everyone has the right to basic education free of charge. In addition, higher education is free of charge, which means that there are no tuition fees. This same principle goes for international students as well.
In higher levels, students pay for their living costs, transportation and books. The average amount of living expenses incurred is approximately 700 Euros (CAD 1100) a month.
Erasmus Mundus: Possibilities for Students Coming from Non-EU Countries
The European Union's Erasmus Mundus programme offers a real opportunity for students and scholars coming from countries outside of the EU. The cornerstones of this programme are over 100 integrated, top-quality Master's courses that lead to an officially-recognized double, joint or multiple Master's degree.
Finnish universities are currently involved in 11 Erasmus Mundus Master's programmes covering Finnish expertise such as forestry, technology and higher education.
Need more information?
The Centre for International Mobility (CIMO) is there to help you.
See you in Finland!
Contributed by:
CIMO – Centre for International Mobility
www.studyinfinland.fi
cimoinfo@cimo.fi