Studying in the Czech Republic places you in the middle of Europe and gives you an opportunity to get the most out of your study abroad experience. With top quality education, a fascinating history, stunning scenery and a rich, but affordable student life, you can have the best time of your life!
1000 accredited study programs taught in English
As an international student, you won't be alone. There are more than 44,000 international students currently studying at Czech higher education institutions. Also, interest is growing as the number of study programs in English is increasing.
Czech universities offer a diverse range of study programmes and scholarships. Students can study short-term, or they can take an entire degree in a wide range of traditional as well as modern disciplines. The Czech Republic has a long tradition of top quality education and research, especially in Sciences, Engineering and Medicine. The Charles University in Prague, for example, was founded in 1348 and is the oldest university in Central Europe.
Cultural experience and a fascinating history
The Czech Republic is a great stepping stone to the rest of Europe, so it's a great opportunity to visit other countries.  Also, in the Czech Republic, there are twelve UNESCO World Heritage sites and, thanks to the excellent public transport system, it is easy to get around and to reach all of these interesting places. Due to its location, the Czech Republic is right at the intersection of many cultures. The rich Central-European culture is a blend of Slavonic, German (Austrian) and Jewish influences. There's plenty to do here to entertain you in between your studies!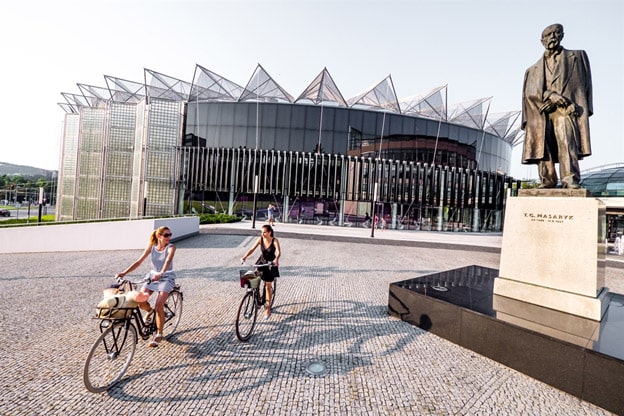 Great student life, affordable living costs and safety
Choose on this map from 70 higher education institutions in more than 20 towns or cities. The costs for student dorms, food and public transport are very affordable, so your average monthly expenses can vary from  350 – 750 EUR. Moreover, according to the Global Peace Index 2021, the Czech Republic is ranked the 9th safest country in the world!
Want to know more? Watch this short video and check the Czech Republic's country profile and the Study in the Czech Republic webpage.
Source: Study in Europe, European Commission