Completing a bachelor's degree abroad was a big leap for Amy Hsieh.
Before this trip, the University of Toronto grad had never even ventured outside of North America. But a strong sense of wanderlust coupled with a desire to continue her studies made the choice clear.
"I knew people who were studying medicine and pharmacy abroad, so I thought why not? I could do the same thing," says Amy. "It would be the best of both worlds!"
This realization lead her to her first big trip abroad – studying Pharmacy at a prestigious university college in Cork, Ireland. TalentEgg caught up with Amy to learn more about her experience.
Preparing to fly
From the rich cultural heritage to the beautiful natural scenery, there were many reasons why Amy picked Ireland to complete her degree abroad.
"I loved the idea of being able to stroll through the picturesque towns and charming coastal communities, or go hiking through the rolling green hills," says Amy. "And there are so many historic sites and museums to visit and just immerse yourself in the history."
The 'Emerald Isle' is only a short plane ride away from the rest of Europe, making it an ideal "base of operations" for travelling. As for the decision to study in Cork, Amy jokes that the city chose her! The location had so much to offer that she didn't hesitate to accept a spot at the School of Pharmacy.
"It has everything you need in a small city: great restaurants, festivals, museums, shopping… but it still has a friendly, small-town atmosphere," says Amy.
Once she knew where she was going, it was time to research. She made sure she had all the practical requirements covered, such as her travel documents, flights, and accommodations. She also reached out to friends who studied abroad, and read as much as she could about Ireland and the university.
"Any time something even remotely related to Ireland came up, I would have a look," says Amy.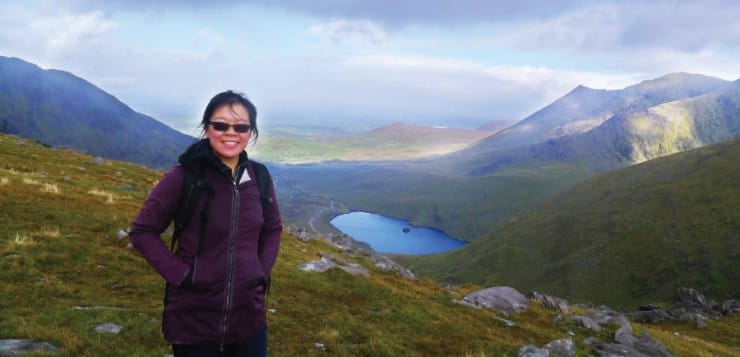 Experiencing Ireland
While in Cork, Amy stayed in a small townhouse with two other Canadian students.
"It was like a little pocket of North America in the middle of Cork," says Amy about her accommodations abroad.
Of course, there were some cultural differences with her 'home away from home.' For instance, going from the hustle and bustle of Toronto to the slower pace of small-town Ireland was a big adjustment for Amy.
"People seem to be in less of a rush," says Amy. "And people are so friendly and polite. Coming from a big city where you can feel a bit anonymous at times, it was nice walking down the street and having a complete stranger greet you and maybe ask about your day."
Why travel abroad?
Break out of your bubble. When you travel abroad, you get to see and experience new things, meet new people, and learn about different cultures.
Stand out from the crowd. By studying abroad, you can bring back unique perspectives from your travels. This can help you stand out to potential employers.
Gain a better sense of self. Studying abroad helps you become self-reliant and independent. It's empowering to learn you can do things for yourself, without others' help.
Amy also had to adjust to the Irish accent and the various 'Irish-isms' that pepper daily conversations. While everyone speaks English, Amy says that the accents can really vary depending on what part of Ireland a person is from.
"Some of them are very light, and some of them are quite thick, but all of them are lovely," says Amy.
However, inside the classroom, Amy's education was quite similar to what she was used to. She really enjoyed the program's hands-on exercises and patient-centred approach to learning.
"We practiced by working in a lab that simulated a pharmacy setting and we role-played patient counselling sessions," says Amy. "Throughout the program, we developed our pharmacy practice skills and patient interaction skills, and built up our knowledge each year."
Making connections
At first, Amy was nervous about travelling on her own, but once she arrived, she realized she had little to fear. She quickly connected with other international students at the university, and became close with two Erasmus students, one from Germany and the other from Italy. "They learned about Canada and practiced their English with me, and I learned about their countries and picked up a few German and Italian phrases from them," says Amy. "It was really fun!"
While making connections with other people was a big part of her time abroad, she says the most important thing she gained was a newfound sense of independence.
"I learned how to cook, budget my money, and do minor household repairs, for example," says Amy. "Living abroad, you learn how to navigate your way and do things yourself in a new place."
Amy didn't know what to expect from her trip – all she knew was that she needed to step outside of her comfort zone and try something new. Fortunately, her Ireland adventure was the exact experience she was looking for.
"I love being able to learn about new cultures, foods, and languages from my international friends," says Amy. "You can read about it in books, see it in movies and TV, but it's never the same as living it or learning about it from a native of a country."
The future ahead
After completing her pharmacy degree and gaining experience in a variety of healthcare systems, Amy is ready to tackle the road ahead.
Amy feels that the experience has had a very positive impact on her career development. She completed her pharmacy degree and gained experience with other healthcare systems (Canada, Ireland, and even a rotation in the US via an Irish-US student exchange program). Living, studying, and working abroad has opened her eyes and taught her to see things from other perspectives – an invaluable skill for an aspiring healthcare professional.
"There are always different ways to approach things, different ways to do things," says Amy. "Now I can take the best parts of what I've seen and apply it to wherever I am in my future career."
Amy's next goal? To complete her practical training and exams to gain both her Irish and Canadian pharmacy license. She plans to practice as a pharmacist at home in Canada, but is open to the opportunity to work abroad in the future.
"I hope that no matter where I end up in my career, I still get the chance to travel and experience new things," says Amy.
Fun fact:

Amy and her international friends stay in touch the old-fashioned way – by sending each other 'snail mail.' "It's always exciting receiving a postcard or holiday card from them," says Amy.
Amy's tips for studying abroad
Keep an open mind. Be willing to meet new people and try new things. Talk to the locals. Learn to see things from other people's perspectives.
Do your research. Read up on your travel destination before you get there, and earn a phrase or two of the local language. People are often delighted if you show that you're interested in their history or culture.
Think of it as an adventure. Everything might be different, but it's an exciting kind of different. Explore, experience, and discover. It will be the story of a lifetime!
Contributed by:
Jasmine Williams, TalentEgg.ca
TalentEgg.ca is Canada's leading job board and online career resource for college and university students and recent graduates.