Saad Hanan, a graduate from the Saint James School of Medicine, shares what it's like to study medicine in the Caribbean.
Is becoming a doctor your dream? To achieve it, you need to go to medical school! While there are over a dozen medical schools in Canada, there are often way more applicants than there are spots in each program. Many students are told to pursue a master's degree first to enhance their resumé. Not everyone is willing to do this, so many students are exploring their med school options outside of Canada. One of the most popular destinations is the Caribbean.
However, studying abroad, especially for medical school, can be intimidating. But there's no better way to ease your nerves than having a student who has pursued this route answer your burning questions!
Meet a Caribbean med school grad
Saad Hanan, MD, was in your shoes a few years ago. When exploring his options for med school, he too realized how difficult it would be to study at a Canadian school. It wasn't until he was at an education fair where he first heard about medical schools in the Caribbean. Fast forward four years and he's now a graduate from the Saint James School of Medicine (SJSM), located in St. Vincent and the Grenadines!
What does it take to apply to med school?
Saad knows just how stress-inducing this process can be, so to help you learn more about what you can expect when applying to med school, program details, financial aid, moving to the Caribbean, and more, he's shared his experience.
Prerequisite courses
SchoolFinder Group (SFG): What courses did you take in your undergrad?
Saad: "I started researching medical schools to figure out exactly what they wanted. As long as I had the six core courses, I was fine: physics, biochemistry, organic chemistry, calculus, statistics, and biology."
Boost your application
SFG: How did you boost your application aside from taking the required courses?
Saad: "It was a good decision to go to some clinics to work and chat with doctors. Otherwise, I wouldn't know if this was the right field for me."
Whether you do this by joining clubs on campus, volunteering, or something else, adding something to your resumé other than your grades will help set you apart.
Take the MCAT
SFG: What was your experience like with the MCAT? Was it a requirement?
Saad: "I took the summer off, where all I did was prep for my MCAT because I knew a lot of medical schools wanted that."
When recounting what it was like writing the MCAT, Saad said he "felt like [he]was in a different country." He was placed in a small room with about six other people, separated by dividers, and had to give biometrics, like his fingerprints and photo. The MCAT typically takes about 7.5 hours to write.
Compare schools
SFG: Did you apply to Canadian med schools? What factors influenced your decision to go to med school in the Caribbean?
Saad: "When I looked at the medical schools in Canada, I saw how difficult it was to enter. I remember my GPA being around 3.5, and that was not as competitive to be able to get in."
"I saw the funding for [SJSM] being one of the most affordable [med schools]. That was another big factor for me — affordability."
Financial aid
Medical school can be expensive, but a great way to help offset these costs is with scholarships.
SFG: Was there any financial aid or scholarships available to you as an international student at SJSM?
Saad: "Yeah, so one of the scholarships they offered was for if you completed the MCAT. They also gave me a scholarship for [my GPA]."
The best advice Saad has is to be proactive and check the school's website. You'll never know what kinds of funding opportunities you could receive if you don't ask. "I don't know if they would have given [the scholarships]to me had I not checked their website."
The scholarships also made Saad a better candidate for a line of credit from CIBC. During this process, Saad booked appointments with different banks in Canada, and made sure SJSM was on each bank's list of approved schools before signing anything. To approve his line of credit, he needed guarantors and their paystubs, an acceptance letter from SJSM, and a credit check.
What you can expect in a med school program
It's hard to know what you can expect when you go to med school, but if you want to get a better idea, here's Saad's experience of studying medicine at SJSM.
Program structure
SFG: What was your program like?
Saad: "For the first two years you're on the island doing your sciences. All the basic sciences are subject based, so you've got to learn all the details about pathologies, the diagnosis, and everything about the body. Once you complete the two years, that's when you start your clinical rotations."
Clinical rotations
Saad: "There are six core clinical rotations: internal medicine, family medicine, surgery, OBGYN/gynecology, psychiatry, and pediatrics." These clinical rotations are done in your third year. Then in your fourth year, you do eight elective rotations in the speciality of your choice.
Some rotations will be easier, and some will be more demanding. Saad recalls working six or seven days a week in his internal medicine rotation — a speciality he's now pursuing. When discussing clinical rotations, Saad says, "it asks a lot of us for a lot of time and sacrifice, and if you're not willing to provide that then you may not see yourself be the best that you can. Medicine wants you to be the best you can for your patients."
Clinical rotations may seem daunting, but don't worry; Saad shared some quick facts that may help ease your anxiety:
At SJSM, clinical rotations are guaranteed and set up by the school; even your elective rotations.
You typically do your clinical rotations in Canada or the US — a requirement if you want to return to Canada.
You won't be discriminated against for being a med student from the Caribbean. Saad says, "I never felt as if I was looked down on or discriminated against because I see so many professionals who walked the same path that I did and now they're training the next generation."
Classroom culture
Saad began his four-year medical degree with just over 30 other classmates. With such a small class, Saad was able to "get a lot of face time with professors," and his classmates felt like family. Saad found friendships and could rely on his classmates and professors as senior students gave advice on what books you'd need, what you need to do to pass, how to study, and the best places to live/eat/hangout.
What's life like in the Caribbean?
Other than wearing shorts and a t-shirt every day because of the great weather (something Saad fondly remembers), there's lots to do!
Moving to the Caribbean
You'll experience "a massive culture shock" when you move to the Caribbean after having been in Canada. Most people speak English, but there are different means of transportation and communication. When Saad moved to St. Vincent, he discovered how friendly and nice everyone is — especially if you're a med student!
Saad's first night in St. Vincent was a late one. His plane arrived late, and he struggled to find something to eat. So, the local whose apartment he rented from (since SJSM didn't have their residences yet) made him feel welcome and took him out to eat.
Cost of living
The cost of living in St. Vincent, where SJSM's campus is located, is fairly similar to Canada. SJSM recommends that you don't underestimate the costs. Most students end up paying more for their housing, grocery stores are expensive, and restaurants cost around the same as they do in Canada. For example, one meal at an inexpensive restaurant may cost you around $13 CAD.
Extracurricular activities
There's lots you can do in the Caribbean! Saad was president of the American Medical Student Association where he participated in and organized health fairs for the local community. Many of the med students would come together to provide free health services to local residents by bringing local doctors and supplies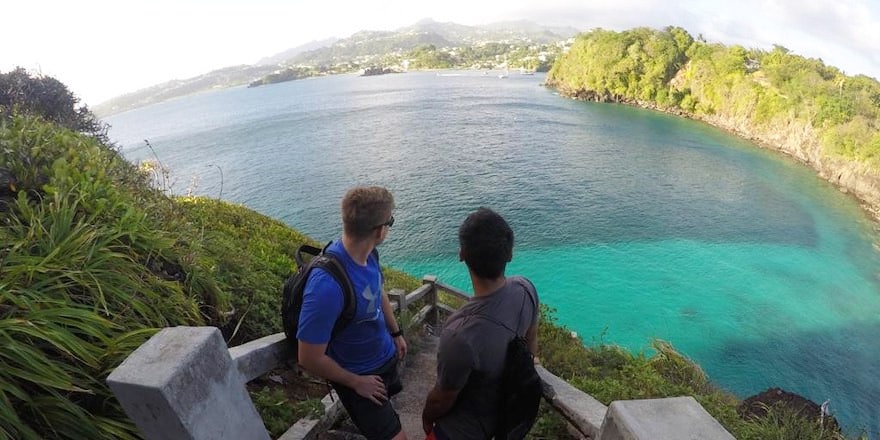 Saad also joined a local soccer club, hiked trails, climbed an active volcano, toured neighbouring islands, studied on the beach, and more!
Saad has since graduated and works as a United States Medical Licensing Examination Counsellor for SJSM. He's currently waiting for his residency matches before he continues on his journey of becoming a doctor.
Hopefully Saad's experience helps answer some of your questions and ease your anxiety. Overall, the one thing that Saad wants you to remember is to "be open to new experiences and be open-minded. If you keep your mind closed, you'll never get to experience the true beauty in the world."