The Netherlands is one of the most popular destinations for studying abroad, and for good reason. The country offers top quality education, an open-minded and intercultural environment, safety, a great work: life balance, and the highest employment rate among European countries (Statista, 2022). What's more, most Dutch people have a very high proficiency in English, so living and studying there is easy.
Are you interested in studying Business in The Netherlands? Do you want to study at a research-level higher education institute, which has a practical focus? Then Nyenrode Business University might be a great match for you.
Nyenrode Business University
Nyenrode Business University is the only private research university in the Netherlands and was founded in 1949 by leading corporations including Phillips, KLM, Shell, and Unilever. For the past seven decades, the university has offered high-quality education grounded in solid business knowledge.
From its two campuses in Amsterdam and Breukelen, Nyenrode offers high-quality English-taught bachelor's, master's, and MBA programs in Business and Management.
4 Reasons Why Canadian Students Choose Nyenrode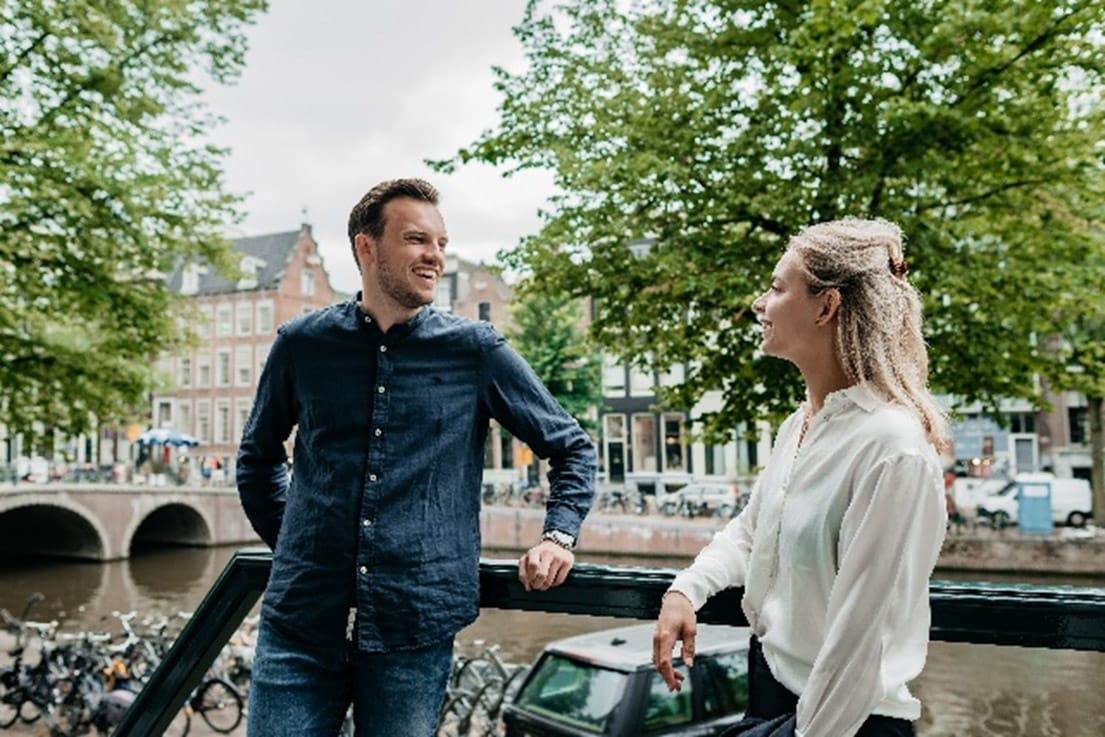 #1 Personal & Practical
Nyenrode offers so much more than just a great education. During the 'Personal Leadership and Career Development' journey in every program, you will have the opportunity to develop your competencies and business skills in many areas, for example solving a real-life consultancy project for a company. The journey is also facilitated by Community Gatherings or Meet the CEO sessions.
#2 Great Reputations in The Netherlands as well as in Europe
#45 in FT European Business School Rankings 2022, #35 in FT European MBA Rankings 2022
For ten consecutive years, the MSc in Management has been ranked #1 for the best MSc in Management in the Netherlands. (Keuzegids Universiteiten*, 2023)
#1 Best Bachelor in International Business in The Netherlands (Keuzegids Universiteiten*, 2023)
Nyenrode's programs are accredited by both AMBA and EQUIS, as well as by national NVAO accreditations.
*Keuzegids is the national guide for higher education orientation in the Netherlands. Statistics are based on the National Student Survey results.
#3 Tight Global Alumni Network
Nyenrode has a dedicated alumni network of approximately 30.000 Nyenrodians, living and working across the globe. Alumni often return to the university not only to coach students, but also to open doors for them through their business networks.
#4 Hassle-free housing 
The Netherlands has been going through a severe housing shortage for several years now, and it's only getting worse, especially for international students. However, if you study at Nyenrode, there's no need to worry about this as the university provides student housing for students at both their campus locations, Amsterdam and Breukelen.
Guaranteed housing in Amsterdam 
The Amsterdam campus is located in the heart of the Dutch capital. Nyenrode offers accommodation to students through their partnership with OurDomain in Amsterdam Diemen-Zuid. The housing facility is just 20 minutes by public transport from the Amsterdam university building and Amsterdam Central station, and boasts a relaxing garden, sports court, and a rooftop terrace.
Live and study in a historic location: Breukelen
If you're looking for a more traditional college-style experience, Nyenrode's Breukelen campus is located on a historic estate, with a castle on its grounds which dates back to the 13th-century. This campus offers conveniently located rooms and apartments with many amenities, including a library, sports facilities, student bars, and even a self-service restaurant with a terrace. The campus is also 30 minutes away by public transport and 39 minutes by bike from Utrecht's ancient city center.
*The housing section has been edited based on the original article on IAMEXPAT.NL sponsored by Nyenrode. Do you want to read further? Click here.
Meet Nyenrode at the fairs
If you want to learn more about studying and living in The Netherlands with Nyenrode Business University, visit our booth at the Study and Go Abroad Fairs on March 2,3 and 5, 2023 and meet our program advisors. You can also learn more from our website – see links below:
Bachelor of Science in Business Administration
Full-time Master of Science in Management
Full-time MBA