With such an amazing array of historical sites, architecture, and stunning works of art to admire, most visitors to Rome want to cram in as much as possible. Unfortunately, despite generous student discounts, the line-ups to buy tickets to Rome's most popular attractions can be very long.
Show up ticketless to somewhere like the Colosseum or the Vatican Museums (where you'll find the Sistine Chapel), and you're guaranteed to waste precious hours of your visit standing in a line. And, in high-season summer, that will also means queuing (and stewing) in brain-broiling, often shade-less heat, sometimes for over two hours.
To avoid ruining your trip in this way, here are five insider tips for students on how to beat the crowds at Rome's top tourist sites, the best times to visit, and how to keep your travel costs down.
Most university students will be entitled to discounts
The student ticket discount system in Rome is more than a little haphazard, but most students will be entitled to cheaper, or even free, tickets. How much less you'll pay will depend on what type of student you are, as well as your nationality. You can get into the Colosseum/Forum/Palatine complex for free, for example, if you're a teacher or student of architecture, art history, archaeology or a number of related subjects from any EU-member country. Most students 25 and under will be entitled to large discounts at the Vatican museums whether they're from the EU or not. The Galleria Borghese – home to sumptuous works by the likes of Bernini, Caravaggio and Titian – is free to students of architecture, philosophy, archaeology, fine arts, or literature — or attending facilities that concentrate on these disciplines – anywhere in the EU. For all of these cases, you MUST bring photo student ID with you to the ticket office (even if you bought your tiket in advance) as well as your passport to prove your age.
Some attractions' official websites don't always provide the best options
Case in point: when booking tickets for the Colosseum you are required to book a time slot, but the availability of tickets on the day you want to go is almost always miniscule, if not non-existent. Even booking months in advance doesn't help; tickets are released every three months and get snapped up within hours of release. In this case, the only way to guarantee being able to visit this iconic building – the ticket for which also gets you into the Roman Forum and the Palatine Hill – you usually need to buy a slightly more expensive ticket from a reseller such as Rome Vacation Tips.
Booking ahead may sometimes be mandatory
Not only is booking online guaranteed to save you time and money, increasingly it's not even an option at some attractions in Rome. As well as rule changes at the Colosseum that mean you have to enter the monument at a certain time, Galleria Borghese long ago decided to deal with overcrowding by making you book in advance within a given time slot. (Note that every booking involves a €2 fee, even for "free" tickets, unless the ticket holder is disabled.) You simply can't turn up without a ticket here and, whatever you do, don't be late! The famous flexible Italian attitude to bending the rules does not exist at these vastly oversubscribed attractions.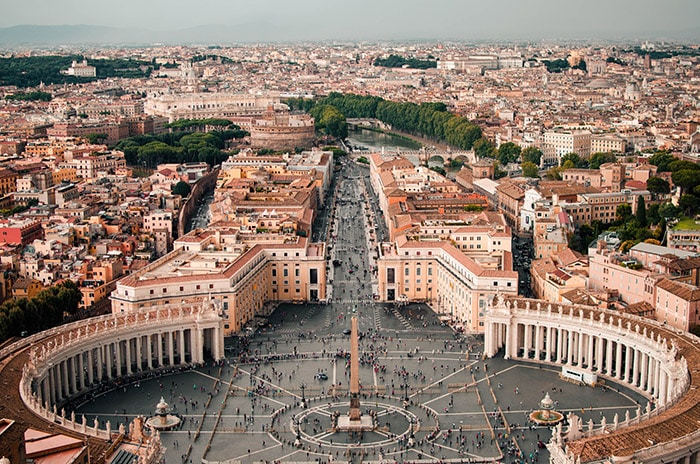 For the major sights, try to go very early (or very late)
The Vatican Museums, the Sistine Chapel and St. Peter's Basilica can get CRAZY crowded, especially during high season.
Unlike at other attractions in Rome, the Vatican does not restrict visitor numbers at any given time. The many miles of museum corridors can get so jam-packed that it's more than claustrophobic – it's often downright scary.
The best time of day to visit the Vatican is as early as possible (see Vatican opening hours below). There is a "pre-entry" ticket that gets you into the museums at 7.30 am – a full hour and a half before the crowds arrive. It's more expensive, but includes an audio guide and if your budget stretches that far you can even opt for a ticket that includes a sumptuous buffet breakfast that will tide you over until dinner.
If you can't get a ticket in advance for the Colosseum, all is not lost. Turn up around 8am and the wait for tickets will likely only be about 10-20 minutes and being there in person means you get allocated an immediate entry time – hopefully for 8.30am when the famous amphitheater opens its doors for the day. We recommend a morning visit for the Colosseum anyway as, during the hot months, the rocks heat up during the day and turn it into something of an oven even after dark!
Finally, use one of Google Map's least-known features
Even frequent users of Google Maps may be totally unaware of its "Popular times" feature. This shows how long you can expect to wait in line for restaurants, stores … or anything else that's featured on Google Maps, which increasingly seems to be just about everywhere you could spend time and/or money. This is especially useful in a city like Rome, where you might find negotiating a spotty, only-in-Italian website too frustrating or confusing, as well as wondering how long you might have to queue outside a no-reservation restaurant. After selecting the spot in question, just scroll past the usual address/phone number/ratings details to the "popular times" graph. This will tell you how typically busy the place is at various times of the week, and may even provide info on how busy it is in real time, and how long the average visitor, customer or diner spends there.
Despite its reputation, Rome is actually a pretty cheap city to enjoy if you don't fall for tourist traps. But to make sure you maximize your time and money, it's essential that you plan your visit ahead.
Produced in collaboration with Rome Vacation Tips and C-Rome art tours.