Living – and especially studying – in Denmark can be a life-changing experience. Top universities, lots of interesting student activities, and the Little Mermaid are all waiting for you in Denmark.
The Danish universities at a glance
Denmark is happy to offer you a choice of eight outstanding universities, several of which are ranked in the top 100 in the world: University of Copenhagen (UCPH), Aarhus University (AU), University of Southern Denmark (SDU), Roskilde University (RU), Aalborg University (AAU), Technical University of Denmark (DTU), Copenhagen Business School (CBS), and last but not least IT University of Copenhagen (ITU).
All of them are research-intensive institutions, but some universities are more specialized in specific areas of study than others. Copenhagen Business School, for example, offers a lot of programs about business, economics and modern languages; whereas Technical University of Denmark has programs on engineering, wind energy, bio-technology and telecommunication, among others; and IT University of Copenhagen offers programs on informatics, innovation, and software – just to mention a few. The rest are comprehensive universities and offer a wide range of different programs, with a great deal taught in English. Just take a look at
www.studyindenmark.dk.
More than 14,000 international students are studying for a full Bachelor's or Master's degree at one of the Danish universities. This amounts to about 10% of the entire student body. Additionally, around 6,000 students take the opportunity to do part of their education in Denmark by coming here on a student exchange program. If you wonder why, just keep on reading.
With an international view, please
Over the past years, it has become very popular to study educational programs with an international touch. A wide range of programs are offered in English in all subject areas – from the natural sciences to arts and humanities. For example, under social sciences you will find the International Business program, which has been one of the most popular programs amongst the Danish students, along with International Business and Politics (at CBS). The other universities also offer international programs; for example, you can find International Studies at AU; International Business & Management at SDU; International Development Studies at RUC; Development and International Relations at AAU; Earth and Space Physics at DTU; and Global Business Informatics at ITU. All these types of offerings have increased students' curiosity in international education.
As a small country in the far north, Denmark knows the importance of having an international outlook and providing students with competencies that they can use anywhere in the world.
However, more classical educational programs like Psychology, Anthropology, and Political Science are also highly desired and valued among the Danish youth. All of these programs have in common that they increase your knowledge of that particular subject and give you a great deal of competencies and tools that can help you handle the challenges in your adult working life – whether your future is in Denmark, back in Canada, or somewhere completely different.
We do hope that you will choose to stay in Denmark as we want to attract more international talent and retain you in Denmark as part of our qualified workforce. This is also why the Danish government recently launched an action plan on internationalization and a reform on international recruitment.
Lectures, group work, student activities, and fun
The lectures at the Danish universities are research-based but involve student participation, workshops, seminars, and tutorials as well. A great deal of the study environment in Denmark is focused on group work, and all the Danish universities offer a wide range of student activities that you can get involved in.
There are student organizations focusing on everything from sports, finance, language, law, marketing, music, entrepreneurship, to Corporate Social Responsibility and wine, just to mention some. Furthermore, the students like to gather for a social time once in a while, sometimes with the professors from their various academic courses taking part in a drink and a chat.
In short: Studying in Denmark means it is up to you how much you will benefit from the number of opportunities you get at the Danish universities and how much you will learn during your stay, because the opportunities for both abound.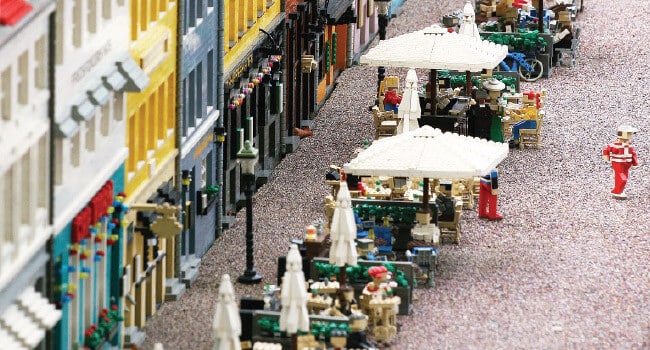 Bike, run or swim your way through Denmark
So studying in Denmark is great. But what do Danes do with the rest of their time?
They bike, run, swim, and eat pastries.
Let us start with biking. Danes love biking. Actually, 50% of people living in Copenhagen commute to work via bike. And this trend is not only specific to the capital of Denmark, but is common throughout the country.
And when Danes do not bike, they run. That is why Denmark has the world's largest run, the DHL Relay Race, and one of the oldest running events: Eremitageløbet. In Denmark, one in three adults runs or jogs regularly. We are also the country with the most marathons and most marathon runners in relation to our population. Denmark has 36 marathon runners per 10,000 inhabitants.
Denmark is further renowned for its food. Actually, Denmark is the fifth largest exporter of food in the world but we do keep a good share at home as well. So if you love pastries, rye bread cheese, and bacon, Denmark is the place to be. And did we forget to mention that we have the best restaurant in world? It is called NOMA and serves everything from flower tarts to live ants running around on your plate.
As for the country itself, Denmark is close to the sea. Nowhere is more than 50 km from the sea, so there is no excuse not to take a swim in the ocean like a true Viking. And just a few kilometers from Denmark's major cities of Aarhus and Copenhagen, you find idyllic villages and pristine woodlands and lakes. Why not take your bike and go for a ride in the countryside – maybe with a pastry in the lunch basket on the rear rack?
While you are in Denmark – or before you come – you should take the time to read a few of the fairy tales from Hans Christian Andersen, who is world famous for his stories. The fairy tales have been translated into more than 100 different languages, and we actually have a big amusement park called Tivoli, which is built around the fairy tales of H.C. Andersen. Talking about fairy tales and H.C. Andersen, you can also visit the Little Mermaid on Langelinie, if you're able to see her amongst all the tourists.
Living in Denmark can be a life-changing experience, and you will get the opportunity to be involved in a different society and make new Danish and international friends. The Danish universities embrace excellent research, student diversity, and innovation, and your stay at a Danish university will contribute to maintaining a strong international environment for study and research in Denmark. On a personal side, you will get the chance to see for yourself how wonderful our country is.
In Denmark, the world is at your feet and we hope to see you here soon!
Contributed by:
Malene Kristensen and
Sofie Thaagaard Hyllested,
Universities Denmark