Reader about Bryler's experiences on the Katimavik program.
I'm Bryler, a 19-year-old, Indigenous, transgender guy from Fort Qu'Appelle, Saskatchewan.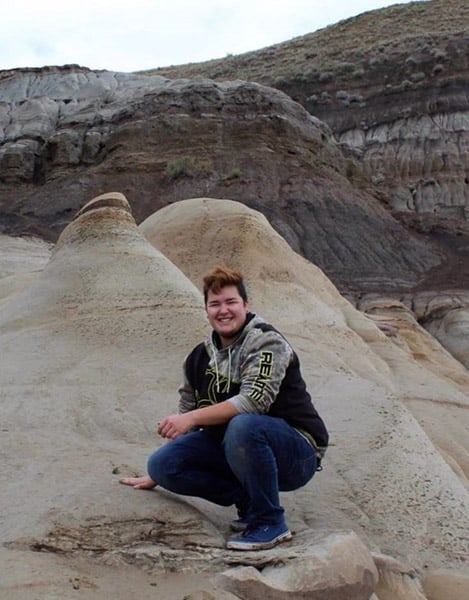 I joined Katimavik because I wanted to do more volunteer work, improve the little French I knew, learn more about Truth and Reconciliation – and who doesn't want to travel, meet new people, and feel like they're making a difference?
My group started in Calgary, then went to Quebec City. In Calgary, my work placement was at Inn From The Cold, a family homeless shelter. There, I got to help families find jobs and offer them a safe and caring place to stay. In Quebec City, my work placement was Société de la Rivière Saint-Charles, where the goal was to maintain the beauty of the paths and the river. I helped the organization with its winter tasks, like clearing walking paths, shoveling stairs, and creating the annual skating rink for the community. In both placements, I learned how much someone could truly love what they do each day.
The Katimavik program was absolutely life changing. I never could've guessed the adventures we would get to go on – like the Royal Tyrrell Museum of Dinosaurs in Drumheller, camping in Banff, cutting down our own Christmas tree at Sapinière St-Jean, or going to a huge water park in Valcartier as a group — and those are just a few of the adventures!
On this trip, I learned more than I could imagine. I learned what it's like to live in new places and be immersed in a whole other language. I learned how to live with 11 other people in ONE house, what it's like to work for non-profit organizations, how to communicate and resolve conflicts in healthy ways, and how to leave my comfort zone and push myself… The list is endless!
Shortly after we got home, I heard amazing news: I was selected by the United Nations Association of Canada to attend the Commission on the Status of Women (CSW63) delegation as an official delegate in New York, alongside two other youth from the Canada Service Corps. I would never have applied for such an opportunity without this program.
Most importantly, I learned more about myself than I think I could have in years. You come home a new person with a whole new view on the world.
My favorite part is how many wonderful people I got to meet and make beautiful connections with – they become your second family and friends for life. I wholeheartedly recommend this program to everyone who gets the opportunity and am beyond grateful I got to experience the Katimavik National Experience.
Katimavik is Canada's leading youth service organization, and the National Experience offers a life-changing opportunity for youth, ages 17-25, to explore Canada, make new friendships, gain valuable work experience, become empowered, and contribute to positive change through volunteerism and active Indigenous reconciliation. For over 40 years, Katimavik has brought young adults together to learn, to exchange culture and language, and to help build stronger communities across Canada.