Victoria Yang is a 24-year old from Waterloo, Ontario. Read more about her experiences on the Katimavik program below.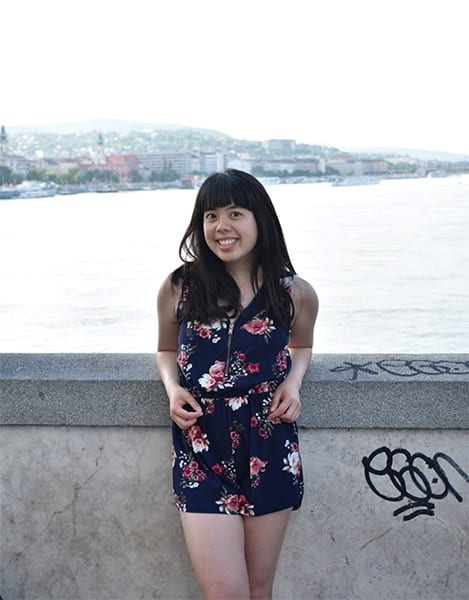 When I applied for the Katimavik National Experience in 2018, I was in the final semester of my undergraduate degree. I was studying Peace, Conflict and Justice, Book and Media Studies, and Political Science at the University of Toronto, and while it felt like everyone around me was headed to graduate school or starting their careers, I didn't know what my next steps would be. Katimavik offered me exactly what I needed at that point in my life: the opportunity to explore my interests, gain diverse experiences, and learn about Canadian issues on the ground – outside of a lecture hall.
My assigned rotations were Moncton, New Brunswick – where I volunteered at the Multicultural Association of the Greater Moncton Area (MAGMA), an immigration settlement agency, and Sudbury, Ontario – where I was a part of a tight-knit team at Canada's longest-running music festival, Northern Lights Festival Boréal. Sleeping under the stars on a camping trip in Miramichi, wading in the Bay of Fundy, cycling along the Chocolate River with bikes that we fixed ourselves, and roadtripping to Peggy's Cove on a weekend off are only a few of the many memories of my incredible summer on the east coast. When I was in Sudbury, I explored Northern Ontario from Killarney Provincial Park to Manitoulin Island, and witnessed breathtaking views straight out of Group of Seven paintings.
Katimavik was an incredible learning opportunity – attending traditional ceremonies, volunteering at a pow-wow, and listening to elders and Indigenous community members encouraged me to challenge assumptions and meaningfully engage with Truth and Reconciliation. Furthermore, Katimavik helped me form connections with people I'd otherwise never cross paths with, from all across the country. Learning how to live with eleven housemates with different stories and backgrounds was challenging, but we truly became a family. I will value the friendship and memories I shared with my cohort for the rest of my life.
After Katimavik, I moved overseas for an internship, equipped with the confidence and sense of adventure that the program had developed in me. When I returned home, I started my Master's degree in Library and Information Science at the University of Toronto, determined to continue making a difference in communities as a librarian.
Katimavik is an exceptional opportunity to learn about yourself and the country you live in, while being surrounded by a community of people who also want to make a difference. I'm so grateful for the growth I experienced, and I would recommend the program to any young person in Canada seeking the adventure of a lifetime.
Katimavik is Canada's leading youth service organization, and the National Experience offers a life-changing opportunity for youth, ages 17-25, to explore Canada, make new friendships, gain valuable work experience, become empowered, and contribute to positive change through volunteerism and active Indigenous reconciliation. For over 40 years, Katimavik has brought young adults together to learn, to exchange culture and language, and to help build stronger communities across Canada.