When you have balance in your life, work becomes an entirely different experience. There is a passion that moves you to a whole new level of fulfillment and gratitude, and that's when you can do your best, for yourself and for others.
The words of an English actress Cara Delevigne are very accurate: work and life influence each other. Rewarding everyday lives help us to succeed in careers and vice versa – satisfying jobs make us feel good in our spare time. But – it's not easy to strike a balance in such a fast-paced world. Once you find a way, new things come along and disrupt everything you have developed. (Anyway, who told us we could get complacent?)
Work-Life balance is especially challenging for those who don't get settled and often change their living conditions. Yes, I mean Digital Nomads – people who travel the world while working remotely. Itchy feet push them to go, curiosity drives them to explore, and as a result, they have an adventurous (and pretty unbalanced) lifestyle.
So –
What are the biggest struggles of digital nomads' work-life balance?
How to cope with them, step by step?
What roles do screentime reduction, offline habits, and routine planning play in a well-balanced lifestyle?
You can find all answers below.
Is being a Digital Nomad worth it? Benefits and challenges.
Did you know that –
For 88% of North Americans, digital nomadism had a major positive impact on their lives.
Having trouble shutting down after the workday harms productivity for nearly a third of digital nomads.
The top challenges digital nomads face are the inability to unplug from work, uncertainty, potential financial difficulties, and staying motivated.
So, in a nutshell, digital nomads improve subjective well-being through their wandering lifestyles. Of course, travel experiences are so gratifying! At the same time, remote workers' jobs and lives are inseparable, so after work, they can't unplug and fully rest. This results in constant work fatigue and leads to lower work performance. Fortunately, a problem well-defined is half-solved: when you know what bothers you, solving it is easy. I'm here to share three easy steps to achieve work-life balance on the road.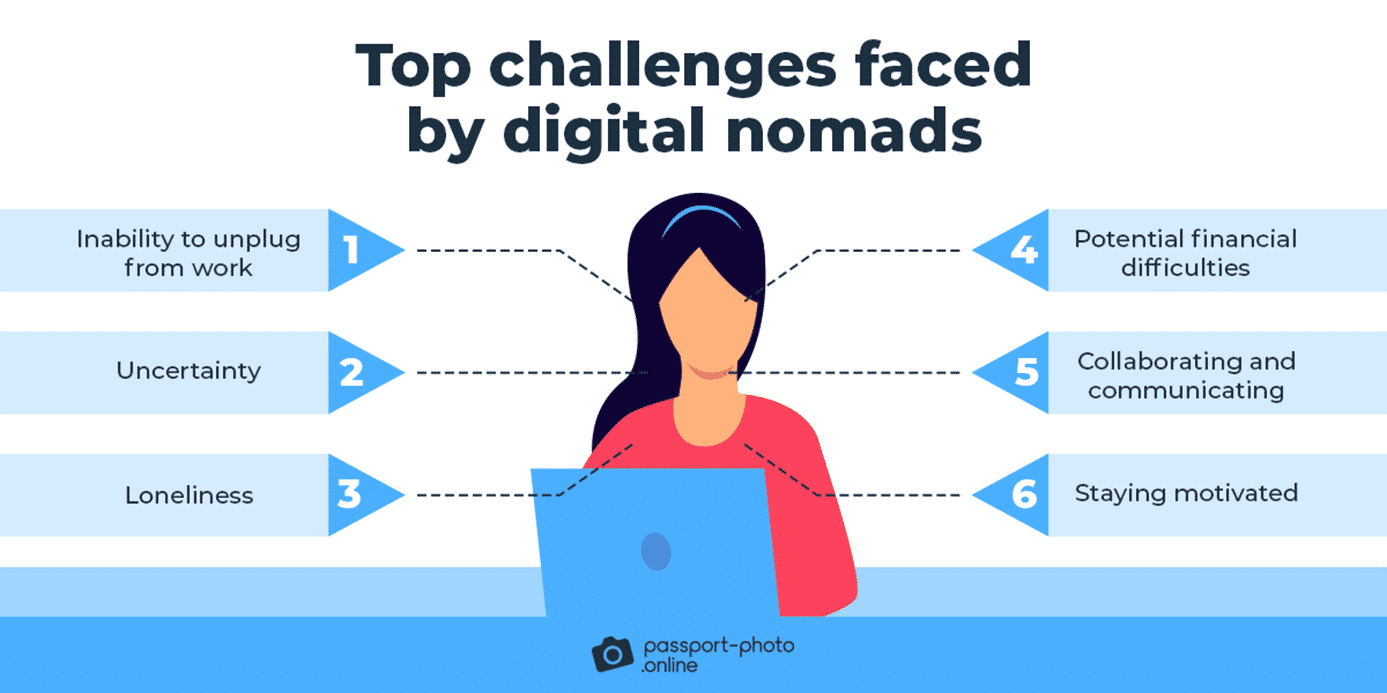 The image source: passport-photo.online/blog/digital-nomad-statistics-and-trends/
Work-Life Balance: The Digital Nomad's Guide
Step no.1. Stop multitasking 
A typical day of work looks like this – check the to-do list, check the mailbox, postpone replying to emails, come back to a daily schedule, choose the first task, give it up and take another one – check the mailbox – start writing your report, again check the mailbox, get stressed because you are not answering emails, amuse yourself with memes, check your social media, come back to report – feel lost. Again, check the mailbox…
Does it sound familiar?
It's illustrative multitasking: a frequent switching from one task to another. But – every time we change over, our brains have to pay the price. After switches, our brains produce dopamine, which puts our brains in a state of pleasure and raises our distraction and cortisol levels. As a result, we are more jittery at work.
In the words of David Mayer, a professor of psychology at the University of Michigan: Anytime you're trying to multitask, you have less attention available to store memories. So, if we try to read emails, reply to colleagues on Slack, and work on our projects simultaneously, we will struggle to retain information.
Consequently, multitasking leads to worse work performance and more anxiety, making it impossible to fully rest after work because our minds are still aroused by information stimulation.
How to stop it?
Set yourself specified hours to check your mailbox.
Block your websites and mobile apps unrelated to work to so that they don't disturb you during working hours.
If possible, turn off your work notifications.
Step no.2. Turn off
I'm sure you'll agree, there's nothing more annoying than notifications popping up on your screen when you're travelling. Even if you ignore them, they will niggle at your thoughts, like an unfinished task. However, nowadays, cell phones are travel essentials. They allow you to contact the world, take pictures, find your way when you get lost, plan your trip, and learn about places you visit… So how to get unplugged?
I'm here with a solution – install offline apps. The offline alternative allows you to fully use the advantages of technology without bothering you.
Recommended apps:
AllTrails – this app offers 300k+ trails that you can download as well as maps you can use offline. It's the perfect app for outdoor activities and exploring nature without using an Internet connection.
Evernote – the iconic offline notebook which includes unique templates for travelers.
Lonely Planet guides – those guides are credible sources of information for every trip. Checking the guide instead of searching for information in Google will save you time.
Step no.3. Set good habits
Whatever you think of routine (boring, restricting, soothing?), it is a framework that helps you to organize your day despite external circumstances. It's like a guide you can follow step by step, every day, and if you stray – you can always come back to it.
When you travel a lot and are frequently switching accommodation, meeting new people, and navigating new languages and different environments, your routine becomes the only constant in your life. This is why it's important in maintaining balance – your habits go with you and once developed, these don't change. Thanks to your daily routine, you can feel at home wherever you go because it's your life foundation.
How to set up your daily routine successfully?
Focus on the time of the day – morning, evening, or lunchtime. You don't have to have repetitive routines for the whole day, but set up a routine for one part of the day, for instance a 30 minute walk first thing in the morning.
Make a list of essentials. Note down which activities you would like to do every day and schedule them into your routine.
Stay patient. It takes time to develop a habit; don't give up in your first week.
Final thoughts
Is being a Digital Nomad worth it? On the one hand, keeping your work-life balance can be challenging; on the other hand, it provides rewarding life experiences. Challenges you can overcome, and nothing will replace the job of travelling.
So I hope the Digital Nomad's Guide to Work-Life Balance will encourage you to work on the road! Let your journey begin!
Contributed by:
Karolina Zając, a writer at Passport Photo Online. With a background in cognitive science and communication, she is fascinated by how language influences our perception of reality. You are more likely to find her in the forest than in the nightclub.