Travelling to Tanzania was always something I dreamed of, but never did I think it would become a reality; that is, until I won a six-day safari from Basecamp International Centre for two, through their sponsorship of the Study and Go Abroad Fairs. When I received the email that I was the grand prize winner, I actually thought it was a scam and it took a few days of research and many emails to convince me that I'd actually won! The trip planning began right away and shortly before Christmas 2012, we began our adventure. As a Veterinary technician who works with native wildlife here in Canada, a safari was definitely my idea of a perfect getaway.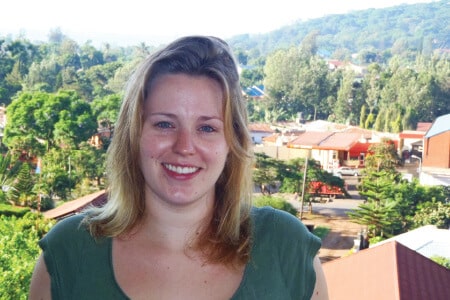 Arriving in Tanzania
Upon arrival in the northern Tanzanian city of Arusha, we were greeted at the airport by staff from the Basecamp International hostel. They spoke excellent English and were very friendly and welcoming, making us feel comfortable in a new country after two very long flights and a sleepless night. We were brought back to the hostel, which was quiet and clean where we welcomed a (much needed and appreciated) hot shower and a good night's sleep.
Day Two
The next morning we were served a delicious home-cooked meal before being picked up by our guide Douglas around 9:00 a.m. That first day after driving through Arusha, we made our way to Tarangire National Park, which is known for its elephants and Baobab trees. To say it was beautiful would be an understatement.
Within the first few hours we spotted tons of animals, a few of which included the zebra, impala, giraffe, bushbuck, ostrich, vulture, hornbill, wildebeest, baboon, warthog, lion, and of course many elephants! Lunch was delicious, and we ate while overlooking a valley teeming with elephants wandering through a winding river. We passed by many Maasai communities and got a glimpse into their daily life. That evening we were taken to a beautiful campsite up on a mountaintop overlooking a village, another smaller national park, and a lake that was covered with so many flamingoes, it seemed to be a dusty pink colour. There were cold drinks, comfortable chairs, and even traditional dancers that put on a show! A delicious dinner was prepared, which we ate while listening to baboons in the distance and the breeze blowing through the trees. The day was absolutely incredible but also very exhausting. That being said, we couldn't wait to see what the next day would hold.
Day Three
We began with a hearty breakfast and a drive through the Ngorongoro Conservation Area, where we looked 1600 meters down into the beautiful crater. Within a couple hours of driving it seemed we had driven through almost every type of landscape possible, including rolling farmland, rainforest, desert, and flat grasslands. We stopped at the Oldupai Gorge for lunch, some sightseeing, and an informal education session about the footprints of ancient human ancestors that were discovered there in the early 1900's. After lunch we continued on into Serengeti National Park.
For the rest of the day, we did a game drive during which we saw so many incredible things. One of the most memorable was two young male elephants fighting: They would back away, then run and slam face-first into each other while bashing their tusks together. They continued to do this for 15 or 20 minutes and actually made their way right around our truck. It was absolutely breathtaking!
Continuing on, we came across a large group of lions who had just killed a buffalo. The whole group was eating and literally tearing the buffalo apart! It was pretty gruesome as there was lots of blood and you could see all of the gory details, but as people who aren't squeamish, it was incredible to see up close! The lions that had already eaten were lying in the grass looking sleepy and many of them had blood on their faces and paws. That night we camped in the Serengeti, and during the night we heard hyenas and lions within the campground. It was absolutely terrifying but also made the experience of being on safari in the African wilderness more real and unforgettable!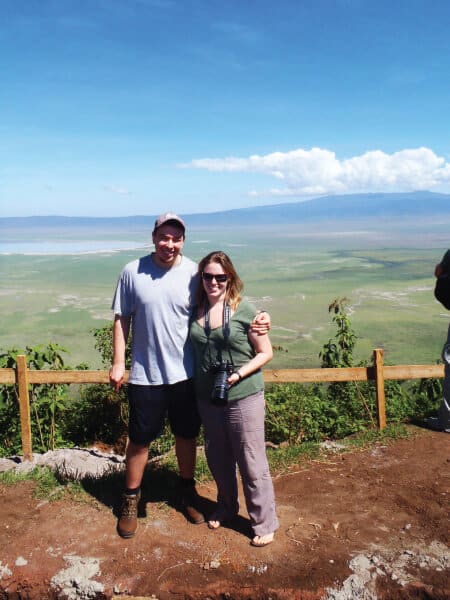 Day Four
The next morning we began our game drive while it was still dark, and witnessed a beautiful sunrise over the Serengeti. It was breathtaking. Shortly thereafter we came upon the same group of lions we had seen the evening before, only this time they had just killed a small antelope that seemed to be food just for the young lions. There was one adult female guarding them and when any of the other adults came clear, she chased them off.
During the next five or six hours of driving through the park, we saw a number of species including many hippos, a crocodile, leopard, impala, many types of hawks and eagles, buffalo, elephants, giraffes – and many more! It seemed that no matter where you looked there was wildlife thriving in their natural environment.
After returning to camp and having a delicious brunch, we proceeded to drive to the rim of the Ngorongoro crater to camp for the night. When we arrived, the view was incredible, but the temperature had also dropped about 15C. After enjoying a hot shower and before heading over for dinner, we discovered an elephant that had made his way to the edge of the campground to graze on some of the greenery. He was very old, had huge tusks and quite a few scars, and was only about 20 feet away! To see such a beautiful animal up close in the wild was fantastic. Nobody bothered him or got too close, and soon after he wandered away on his own.
Day Five
The next morning, we started out at sunrise and descended into the crater. And believe me, 1600 meters down is a long way to go, but once we were in the crater, wildlife was all around us. Buffalo, wildebeest, zebra, hyenas, tons of birds, elephants, and even an endangered black rhino!
At one point during the day we drove over to where a couple of other trucks had stopped and saw that there were four lions, one of which a young male, who were lying in the shade of the trucks. We ended up sitting about six feet away, and if we had really wanted to, we could have literally reached out and touched them. It is extraordinary just how quiet and peaceful they can be, yet how ferocious and skilled they are at hunting and killing their prey. Seeing some of the largest cats in Africa so close was a dream come true.
After driving for about six hours and eating a delicious lunch beside a pond full of hippos, we were driven back to the Basecamp hostel in Arusha.
Final Night
Our last night in Arusha was spent relaxing on the outdoor terrace with fellow travelers, reminiscing about our incredible adventure! The next morning we were taken back to Kilimanjaro International Airport in plenty of time to catch out flight.
Contributed by:
Katie Allen
Photos courtesy of Katie Allen