How I quit my job as a broadcaster to travel the world and bake with abused women.
It is a long story, but to cut it short…just after giving birth to my son, I was diagnosed with a rare type of lung cancer. I was only in my mid-twenties. Amazingly, the doctors were able to remove the tumour, but my soul was aching for a long period of time afterwards. Lying on a hospital bed on a sunny day, hooked up to a confusion of tubes, I made a promise to myself – if I make it through this, I want to find a better purpose in life. I just didn't know what, though.
A couple of months later, someone mentioned a job at a local NGO helping BME (black and minority ethnicity) women to integrate into UK society. New to the country myself, I dived into my new job. A few jobs, and many conversations with ladies from around the globe later, I learned the depth of the problems my sisters face on a daily basis. Female genital mutilation (FGM), forced marriage, bride kidnapping, human trafficking – I have campaigned against all these forms of gender-based violence via my official posts. But I realised that my passion had outgrown the word "work". So I decided to travel the world, one country at a time, concentrating on empowering women via … baking. Why through cakes?  During my grim days of recovery back in 2009, far away from my family and native land, baking had helped me to heal. With each cake I was getting back my former optimistic self. Day-by-day baking grew from a hobby to an obsession. Combining my three passions; a love of baking, a fascination with travel and a desire to stop GBV, my charity was born.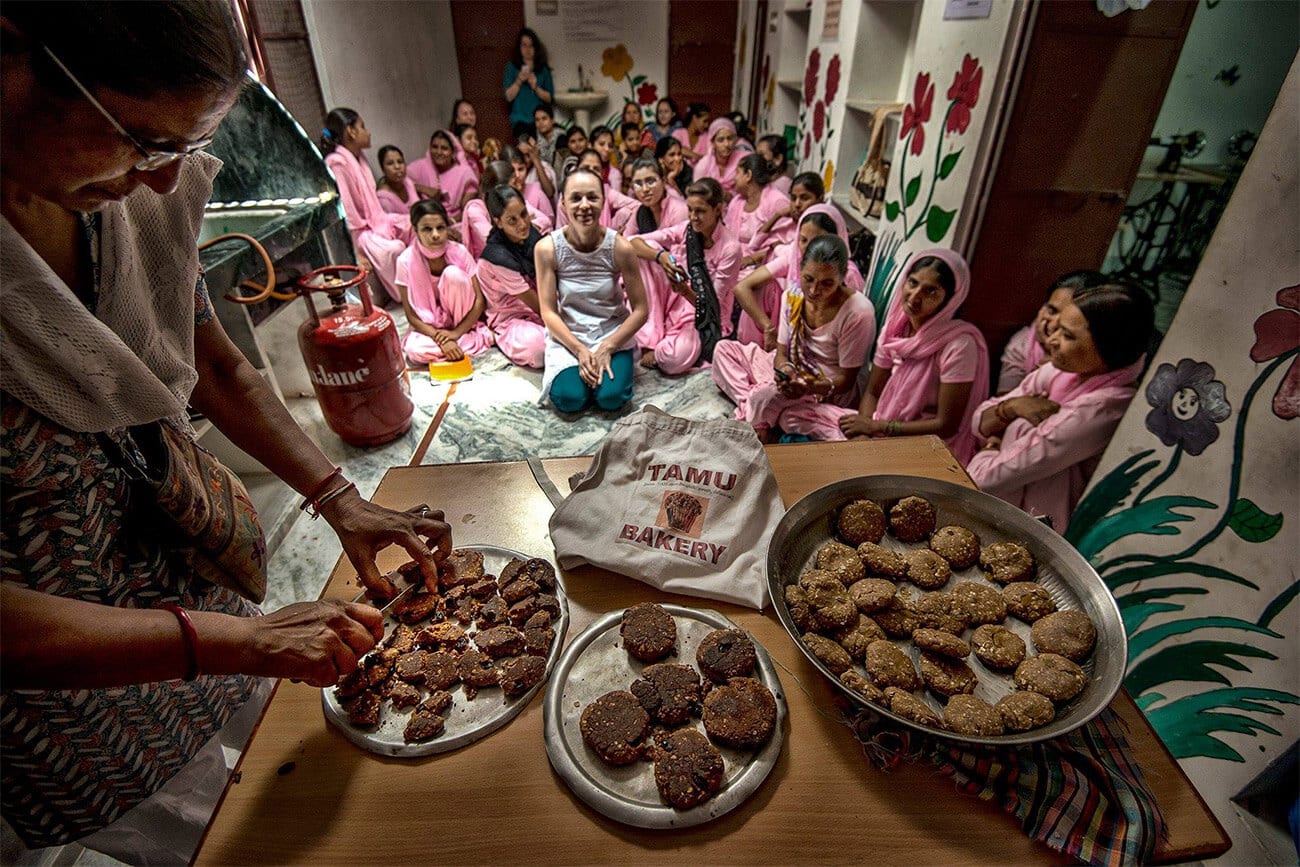 The first country I worked in was Kenya, Masai land. Two hundred young girls, survivors of FGM. Some of them as young as 9, and already married to men in their fifties. Giving them classes about their basic human rights was great, but I quickly realised that the biggest impact on them had been made through our baking sessions. Well, not baking in the traditional way. No electricity; just an open fire and a metal pan with hot sand. Cake batter inside, lid with hot sand on top. Then a whole night watching the fire bake our first sweet sponge together, dancing and singing traditional Masai folk songs. Lots of tearful stories about their lives; so full of sorrow, despite their tender years. I cried loads that night, too. The therapeutic power of baking with someone else had had a cathartic effect.
By now I have baked in many places; using a traditional oven in Kosovo working with widows of war, trying to bake iron-rich cookies on a gas ring in the desert of Rajasthan (where patriarchal attitudes dominate), and whisking meringues with forks with Roma girls in Montenegro. And my list goes on… It is a challenge to arrive in a new place, adapt the recipe to the local cuisine, and find the right equipment, out of what is available, to turn raw dough into delectable bakes. It is challenging to get enough consultancy work to be able to afford my expeditions. It is a challenge to hear stories of abuse, and still find that trace of hope to empower those ladies, and the enthusiasm to inject into their community. But I have found my way to help to make this world a better place. Even if it is only one cake and one woman at the time.
About the author:
Yana Spencer is a journalist and women's right activist, currently based in SE Asia. She runs Tamu Bakery, a social enterprise which empowers women survivors of gender-based violence through the power of baking. Hundreds of women around the world have benefited from her innovative baking therapy sessions. Find out more at www.tamubakery.org