Present in 113 countries with over 80,000 members, AIESEC, the largest student-run organization in the world, facilitates volunteer and work exchange opportunities developing youth into global citizens.
Meet Peggy Chen and Kevin Lee, two exchange participants from the Simon Fraser University Local Chapter of AIESEC in Vancouver. These are their AIESEC exchange stories.
Work Abroad – Kevin Lee
What's a recent graduate to do once they receive their diploma and are faced with the daunting prospect of their future? For some students, it's further schooling. For others, it's travel. Sometimes, it's diving right into the workforce; the possibilities seem endless. But what if you could combine learning, travel, and work into the opportunity of a lifetime?
Kevin Lee, who has recently finished his undergraduate studies at Simon Fraser University in British Columbia, decided to delve into a pretty unique option: He travelled to Hong Kong to work at a local university. Combining his years of education and love for travel, the result was a life-changing experience.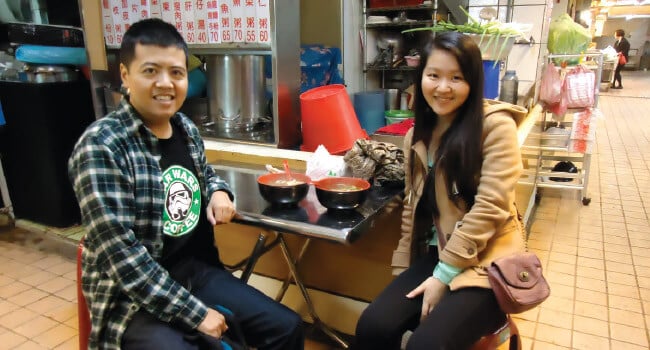 As both a Project Coordinator and Teaching Assistant at Hong Kong Baptist University's School of Business, Kevin assisted professors in teaching students in the area of Business Communication. In addition, he ran career-development workshops, helping students prepare for interviews and also helping them develop their résumé-writing skills. While a part of this experience helped Kevin move forward professionally, he felt the most rewarding part was the cultural aspect of this opportunity.
The Decision to Work Abroad
It is one thing to find a job in your hometown, but it is quite a different experience working abroad.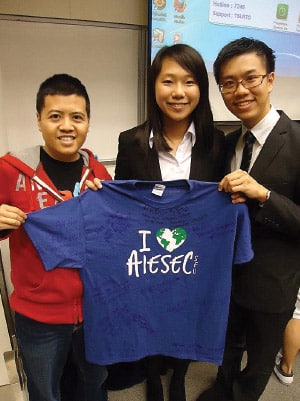 "I never travelled much as a kid, so I wanted to take a chance to see other parts of the world." – Kevin Lee
It wasn't just adventure that pushed Kevin to visit Hong Kong. Kevin chose this location to also get in touch with his Chinese roots, which he had heard stories about growing up but never experienced first-hand.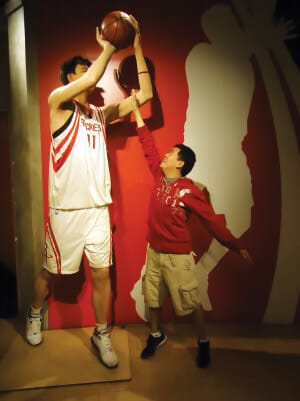 The opportunity to work in Hong Kong also gave Kevin the chance to see the world beyond what he had been accustomed to with his own eyes. Most importantly, it allowed him to broaden his understanding of cultural realities.
When in Hong Kong
Living in a completely different place can be frightening at first. To ease the process of traveling and working abroad, Kevin went on exchange through AIESEC, a student-run organization that facilitates volunteer and work opportunities for current students and recent graduates. Having gone through the exchange process with AIESEC, Kevin had connections with local AIESEC members in Hong Kong to help him adjust to the culture for the duration of his stay. Through AIESEC, Kevin had locals pick him up at the airport, help him find his apartment, and show him around on weekends.
"I started to live like a local, very unlike the lifestyle here in Vancouver. In Hong Kong, they live quite a busy lifestyle, so I was always out of the house."
Kevin was also fortunate enough to have traveled to other cities like Beijing, Taipei, and Macau while on his internship. While traveling to these different cities, Kevin recalled seeing interesting foods like deep-fried scorpion and starfish at night markets and trying snake soup at a restaurant with live snakes on its premises.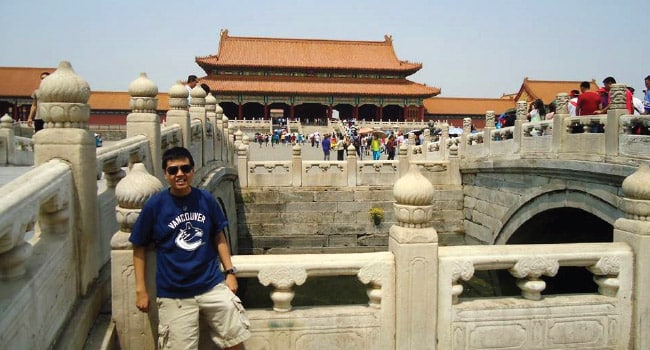 "You see these things on TV, but it's just not the same until you're there."
After having spent months working in Hong Kong, Kevin notes the most emotional experience he went through was having to leave the people he met.
"You see and work with these people every day; it's tough when you're all suddenly spread across the world."
The one piece of advice Kevin has for someone thinking of going abroad is to just "push yourself to get out there." Especially coming from a different country, you really learn to appreciate not only a different culture, but your own culture as well.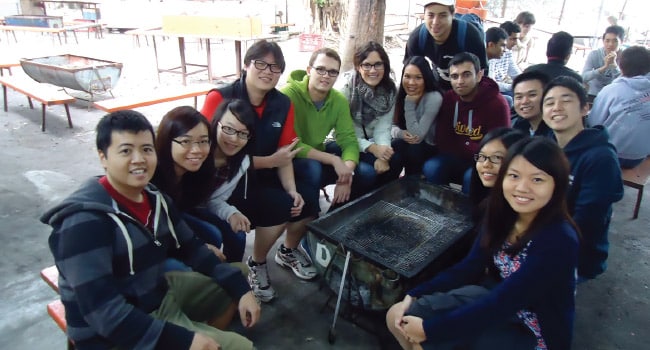 If you are interested in working or volunteering abroad with AIESEC, visit www.aiesec.ca for more information.
Volunteer Abroad – Peggy Chen
On the streets of Brno, Czech Republic, locals and tourists alike quickly walk past each other to work, school, friends' houses, all with the sound of oncoming trams echoing in the background. Very few spoke to each other, only close friends or relatives. With eight other newly made friends from around the world, we walked as a pack, often drawing attention since we looked and sounded different. Some gave us a smile; some would ask where we were from. But still, very few spoke to us.
This was my life for six weeks when I went abroad on a Global Community Development Program with AIESEC. My life was quiet, but it was never boring. All I can say is I had a life-changing experience in the few weeks I spent there teaching high school students about Canadian culture. I went there scared, adjusted to the lifestyle, made lifelong friendships, and left with tears of happiness. Now I am back in Canada with a piece of this experience forever with me.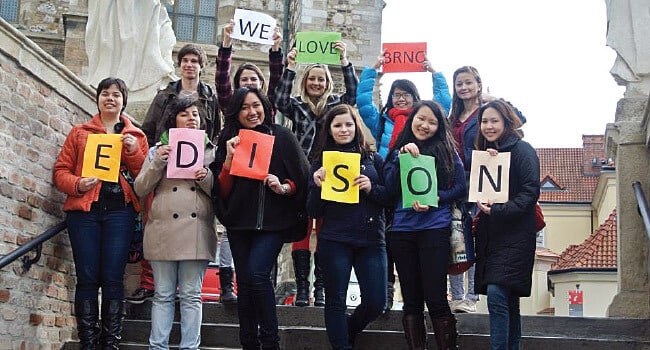 Young hesitation
I went on this internship simply because I wanted a break from life as I knew it. I was tired of the same routine, going to school and attending classes, which often made me question what I was doing and where I was headed. I was confused about my path and just needed to get away. There were few things I was certain of, I wanted to see the world, I wanted to teach, and I wanted to meet and learn from new people. When this opportunity was made available, I put aside my young hesitation and took a chance.
The experience
There were many things I learned during my internship: how to efficiently haul luggage on and off trains, how to say thank you in four new languages, how to avoid pickpockets, and how to pick the perfect bed in a shared hostel room. The most important thing I learned, however, was the beauty of how culture appears to differentiate us, yet it is also what brings the world together.
The internship project I volunteered for, called EDISON, aimed to educate local students on multiculturalism, so the work itself was very much about cultural diversity. Working with other interns from Brazil, Thailand, Indonesia, Hungary, Vietnam, Romania, and China, we often told stories from home which, although showed how different we were, allowed us to gain more of an understanding of our cultural differences.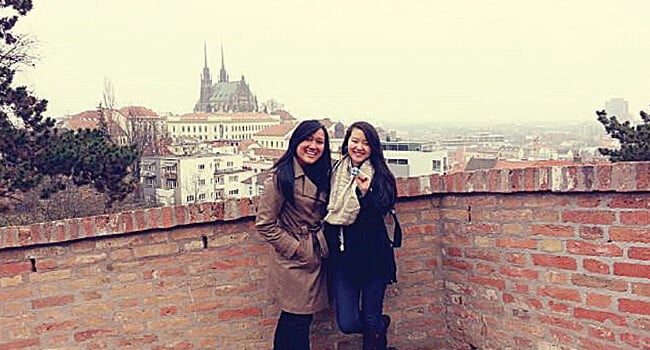 In the classroom where we taught, students were so eager to learn about our differences and were comfortable discussing controversial topics. One student I taught e-mailed me after a lesson, saying it was her dream to live in Canada, and that it was an honor that I was the first Canadian she had ever taken a picture with. It is moments like this that made me realize why international experience is so important; it allows you to embrace diversity and it brings together seemingly different people.
At the end of the day, it doesn't matter that the differences between the interns and I were frustrating at times, what's important is that we were able to learn from each other, and are now aware of different cultural realities. Reading about a country's current events on the Internet is definitely not the same as having a local tell you in person.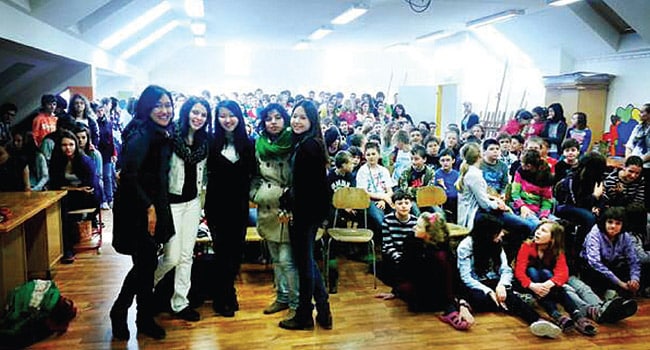 Staying with local host families, I got to experience the true Czech lifestyle. It let me learn about the country's history, and allowed me to understand why some of the locals were quiet and often kept to themselves. I came to appreciate that, and learned not to mistake silence for ignorance or bitterness. Sometimes it took a simple hello to get others to speak, and share their stories.
The World is friendly!
I roomed with two people from Spain the first night I arrived in Europe and checked into a hostel by myself. I remember I was scared to be out late, so I stayed in. That night, I heard something that has stuck with me ever since. One of them told me, "The world is friendly and most people are good! So go out and see everything!
These two strangers-turned-friends encouraged me to go out that night and, looking back, I am so glad I did. What they said inspired me much throughout my time abroad and still does now that I'm home. The world can be a scary place, but despite everyone's differences, going out and seeing everything allowed me to see how friendly the world really is. I hope it inspires you to do the same.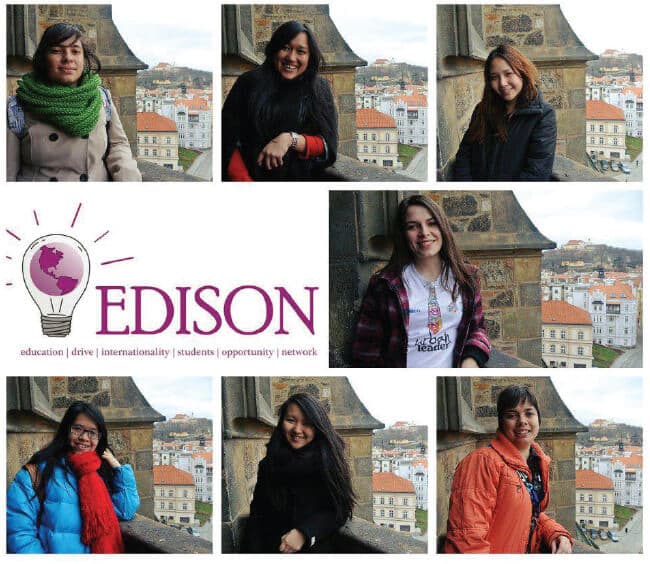 Contributed by:
Peggy Chen, AIESEC, Simon Fraser University
If you are interested in working or volunteering abroad with AIESEC, visit www.aiesec.ca for more information.