A resume can summarize your job experiences, but an online professional presence can show employers what makes you, YOU. With a number of digital tools at your fingertips like Linkedin stories, TikTok, Reels and more, you can build your professional brand and stand out to employers with interactive and immersive storytelling.
But first, what is a professional brand? It's the values you believe in and the practices that inspire your daily work life and long-term career aspirations. It can be as simple as your morning coffee and email routine that will help you kickstart your day, or it can be as visionary as championing diversity and inclusion in your workplace. Find what values you want to share with your professional network or potential employers, and that is your professional brand.
Here's how you can use the latest social media tools and trends to master your professional brand:
1. Share your work life
Linkedin stories are a great way to share your daily work-life. Similar to Instagram stories, LinkedIn stories can be viewed on your profile for 24 hours. In today's fully virtual work environment it's getting harder to socialize with your co-workers. Encourage connections and interactions with your network by uploading an image of your work set-up (or lack thereof), highlighting unexpected co-workers (pets are a favorite), or share live updates from an event you're attending (even virtual ones!).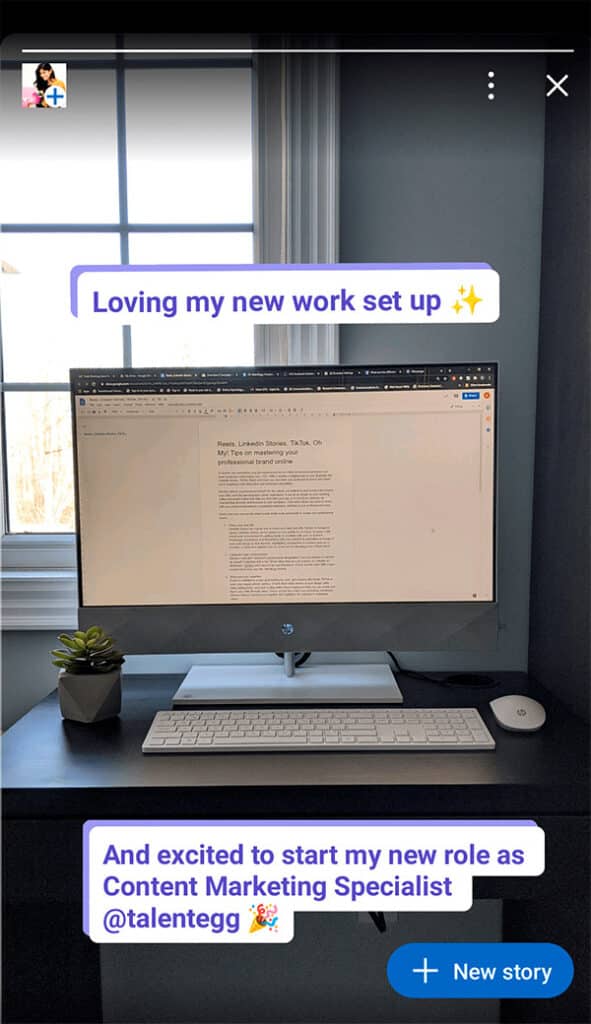 2. Celebrate major achievements
Started a new job? Achieved a professional designation? Got your degree or earned an award? Celebrate with a fun TikTok video that you can reshare on Linkedin or elsewhere. TikToks don't have to be unprofessional. Check out Michaela Alexis, a Linkedin Trainer and Coach who creates engaging content that teaches you how to boost your personal and professional brand.
3. Showcase your expertise
If you're a student or a new grad looking for work, get creative with Reels, TikTok or even your regular phone camera. Create short video demos of your design skills, video editing tricks, and even coding skills! Show employers what you can create and flaunt your skills through video. Check out this fun project our Marketing Specialist, Samuel Gibson-Gamache, put together that highlights his expertise in creating short and fun animation videos:
4. Create a fun video introduction for your TalentEgg profile.
You don't need Adobe Premier or superb skills in video editing to put together a video introduction for your TalentEgg profile. Use Instagram Reels to record a video introduction and then you can add some music and graphics to make your video interesting. The key is to highlight yourself as the best candidate so employers can find you through the Candidate Video Showcase. Learn how to upload an elevator pitch on your TalentEgg profile and how the Candidate Video Showcase can help you elevate your professional brand to employers.
Contributed by:
Kajol Ratanjankar, TalentEgg.ca
TalentEgg.ca is Canada's leading job board and online career resource for college and university students and recent graduates.