Road tripping is one of the best ways to get an authentic taste of British life. Perhaps you're interested in the history of the country, or maybe you're determined to capture a glimpse of the Royal Family during your travels? No matter your reason, the UK offers up an array of sights to enjoy, wherever you end up.
But, don't let the excitement get ahead of you. Without planning, road trips can be costly. Here are some helpful money-saving hacks to help students prepare for their next UK adventure! Plus, some handy driving tips for non-UK motorists.
1) Plan your route!
You've worked out your A to B, so you can work out the rest as you go… right? Wrong! It's all well and good knowing your end destination, but you need to think about everything in between. Make sure you plan your overnight accommodation and fuel stops. Also, take the time to explore lesser known beauty spots and attractions along the way. Maximize your experiences!
If you don't plan where you stay beforehand, you could end up spending more than you anticipated, especially if hotels and B&Bs are booked up. If you're travelling in more rural areas, this is even more critical as you may find there is less accommodation around.
2) Don't go overboard on the hire car
The hire car is the most important part of your road trip, and can potentially be the most expensive thing you pay for if you don't put a lot of a thought into it.
It can be tempting to imagine yourself cruising though the British countryside in a classic drop top, the wind flowing through your hair, the sun shining down… but this just isn't realistic if you're on a budget. On a UK road trip, you need the following if you want to spend as little as possible:
– A diesel car
– A manual car (with stick)
– A reliable car
This doesn't mean you need to hire a donkey. A diesel, sporty hatch is more than achievable. Just do your research on fuel efficiency first!
3) Calculate all your costs ahead of time
Before your road trip, it's a good idea to plan and break down all your costs ahead of time. Look up your planned hire car's price and calculate how much it would cost you per day, including gas, to the best of your ability.
You also need to consider a number of other factors including:
parking
insurance
accommodation
cell phone data
food and drink
Planning ahead prevents any nasty surprises.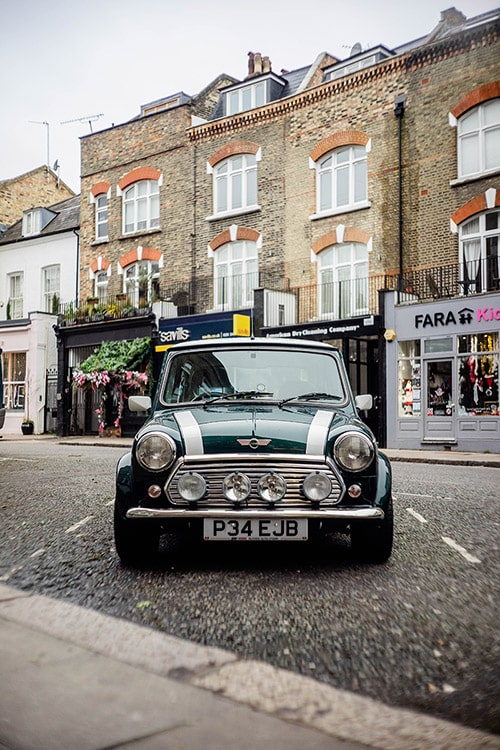 4) Pick the best driving times
There are times you want to avoid being on the roads in the UK, as with other countries around the world! Rush hour traffic in the UK starts around 7am and finishes around 10am Monday to Friday. The evening rush hour traffic is between 4pm and 7pm Monday to Friday. Not only will sitting in this traffic cost you precious fuel money, it'll also cost you valuable time!
If you can't avoid driving during rush hour, try and avoid the highways – they are notorious for traffic jams.
5) Pack your camping gear
Technically, wild camping is only legal in the UK if you have the landowner's permission. However, most are accommodating if you leave the site how you found it.
Camping a few nights during your road trip not only allows you to save money on expensive accommodation, it also allows you to connect with nature. There are so many stunning sites across the UK that will take your breath away, with locations including Snowdonia, the Lake District and Dartmoor to name a few. Do your research before you leave for your trip and note down beauty spots you'd like to visit.
6) Avoid toll roads and congestion charge zones
There aren't that many toll roads in the UK, but knowing an alternative route around the ones that do exist will save those precious pennies! The same goes for congestion charge zones in London. Be aware of the times that the congestion charge is enforced (at present: 07:00 and 18:00, Monday to Friday), and of course, know where the zone extends.
7) Buy special tickets for multiple tourist sites
As you are likely intending to stop off at multiple attractions throughout your road trip, make sure you check if there are any discounted tickets for multiple sites. For instance, The National Trust have a touring pass which gives you free access to over 300 houses and gardens across 7 or 14 days depending on the length of your trip.
The UK has an array of amazing offerings that will guarantee your trip is an incredible experience. Make sure you plan your road trip carefully. Once all your financial planning is out the way, you can kick back and enjoy a great British experience!
Produced in collaboration with Keith Michaels Insurance