When applying to university, it is important to start early. This is particularly true if you are an international student. By following this 24 month timeline, you can keep yourself on track to complete all necessary items and meet deadlines.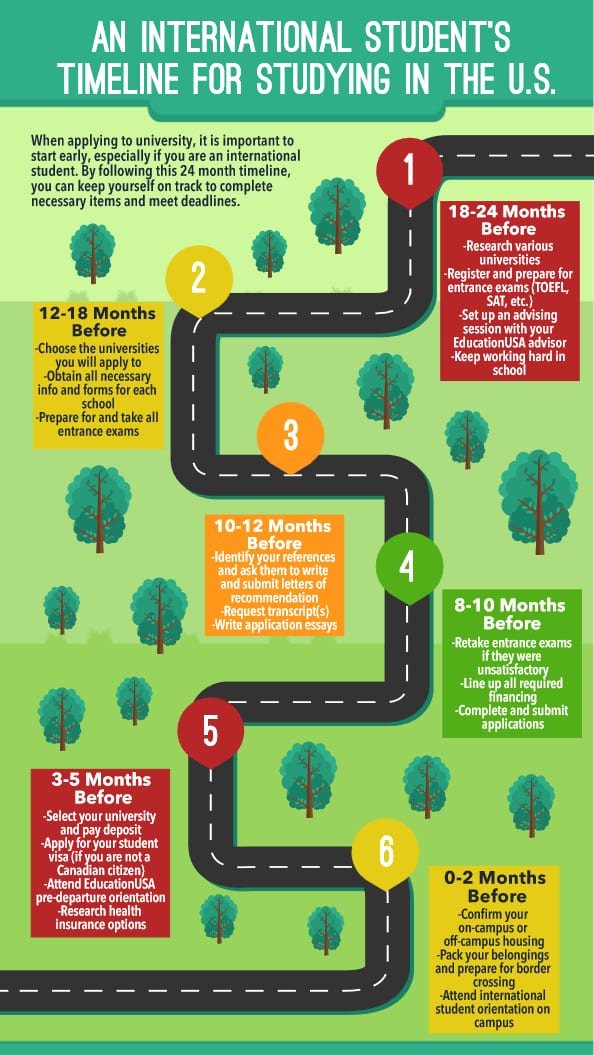 18-24 MONTHS BEFORE
In Grade 11, you should begin researching the universities you are interested in applying to. This is when you should figure out what is important to you in a university.
Almost all universities in the United States will require international students to submit scores from entrance exams such as the SAT, ACT and TOEFL (English language exam). Using your previous research, register and prepare to take any required entrance exams.
Keep working hard in school. One of the most common reasons why college applicants get rejected is because their transcripts show a dip in grades. Universities pay close attention to character and a sudden change in the quality of grades may impact their decision.
12-18 MONTHS BEFORE
Based on your earlier research, you should pick approximately 4 to 8 universities to apply to. If you need help with this, check out this EducationUSA blog post: Six-Question Quiz: How to Narrow Down your University Search.
Obtain all necessary information and forms from each school, including financial aid forms and international student application packages. Do not be afraid to contact the admissions offices in order to make sure you know exactly what they need from you in your application.
Prepare for and take all entrance exams. By taking these exams early, it will allow you to retake them should your results prove unsatisfactory.
10-12 MONTHS BEFORE
Identify your references and ask them to write and submit letters of recommendation. Some teachers will be writing many letters of recommendation so it is important to ask for these letters at the very beginning of your Grade 12 year. You should give your references at least one month before your earliest deadline. For tips on recommendation letters, read the EducationUSA blog post Students Navigating the Do's and Dont's of Recommendation Letters.
Universities in the United States require official transcripts, translated into English if necessary, from your educational institution(s). There is a deadline to submit transcripts, so it is important to work with your guidance counsellor to ensure that all of the correct documentation will be uploaded.
Begin writing your application essays. Admissions officers can spot rushed essays from a mile away. To avoid this, start your essays early. For tips on what makes a good essay, read this EducationUSA blog post: 3 Tips for an Amazing College Essay.
8-10 MONTHS BEFORE
Retake any entrance exams (SAT, ACT, TOEFL) if they were unsatisfactory. The most competitive U.S. universities value standardized tests more than ever, as it helps admissions officers calibrate a student's grades.
Line up all financing. The competition for international scholarships is fierce, so start looking early for scholarships or alternative funding. For help, read the EducationUSA blog post The Beginner's Guide to Financial Aid.
Finally, fill out and submit all applications carefully and thoughtfully. Have someone look over your applications so you do not want to submit an application with errors.
3-5 MONTHS BEFORE
By this time, universities will begin notifying you of your acceptance. Select your university and pay the deposit. You may want to wait till you receive all notifications before accepting an admission offer, as admission deposits are not refundable.
If you are not a Canadian citizen, apply for a student visa. An F1 visa can be issued up to 120 days in advance of your course of study start date. For Canadian citizens, you will not need to apply for a an F1 visa, as your I-20 document will suffice for your border crossing.
Watch or attend an EducationUSA pre-departure orientation where you will learn about crossing the border, moving tips, setting up your cell phone and bank account, getting set up on campus and having a great first semester.
Research health insurance options. Most universities require that students have some form of health insurance while enrolled. Many universities will offer their own health plans to students.
0-2 MONTHS BEFORE
Confirm your on-campus or off-campus housing. If this is your first time at university, it is highly recommended that you live on-campus for the first year.
Pack your belonging and prepare for border crossing.
Attend the international student orientation at your university's campus.
HOW CAN EDUCATIONUSA HELP?
EducationUSA is a free advising service funded by the U.S. Department of State. If you have any questions about your admissions timeline, email ottawa@educationusa.org.
Contributed by:
By Jenika Heim, EducationUSA Advisor