When many of us think of learning, we immediately picture desks lined up in classrooms, dusty chalkboards and stacks of textbooks filled with knowledge. For graduate student Lydia Bye however, learning is the process of discovering new cultures and countries across the world. While she received excellent in-class education when she decided to study abroad, it was her immersion in a different language and way of life that gave her a unique experience. Read on to find out about her study abroad experience!
From Taking the Train to Skiing Across Town
Originally from Edmonton, Lydia had her routine set – her life revolved around being a great student, caring friend and active member of her community. However, after high school, she was ready to try something completely new. That's why she decided to study abroad in California, USA at The Master's College. She found the experience so rewarding that she decided to study abroad once more, this time for her Master's degree.
When choosing a school that would be a good fit for her and her area of study, Lydia was immediately attracted to Sweden. It's a country that's famous for its advanced scientific research, including the creation of the Nobel Prize. Lydia was also attracted to Nordic culture because of its reputation of being eco-friendly and socially progressive. So she decided to do her master's degree at the University of Skövde in Sweden. She was not disappointed when she arrived – she could ride a bike everywhere and even ski right through town!
Still, it took a while to adjust to the shift in culture as Sweden is quite different from California, where she spent the last four years. Even a trip to the grocery store was tricky as she had to navigate a whole new system of checking out, bagging and paying with kronas instead of dollars. But Lydia adapted pretty quickly – it wasn't long before she had familiarized herself with a new way of life and felt at home.
Enchanted by the Northern Lights in Kiruna
One of her favourite parts of studying abroad is meeting local classmates and professors and becoming part of the campus community. In Sweden, her peers gave her in-depth insight into Swedish traditions and history. She also bonded with fellow international students who, like herself, were in a home away from home. "The people are the most important part of the travel experience," says Lydia. "They're an invaluable resource when you're exploring a foreign land – we explored different places, together."
During her time in Sweden, she took a group trip with other students to Kiruna, Sweden's most northern town to experience the Arctic. They went to the centre of a frozen lake to see if the Northern Lights would appear in the night sky. The excitement of it all and everybody's appreciation of the landscape was one of the best experiences she's ever had.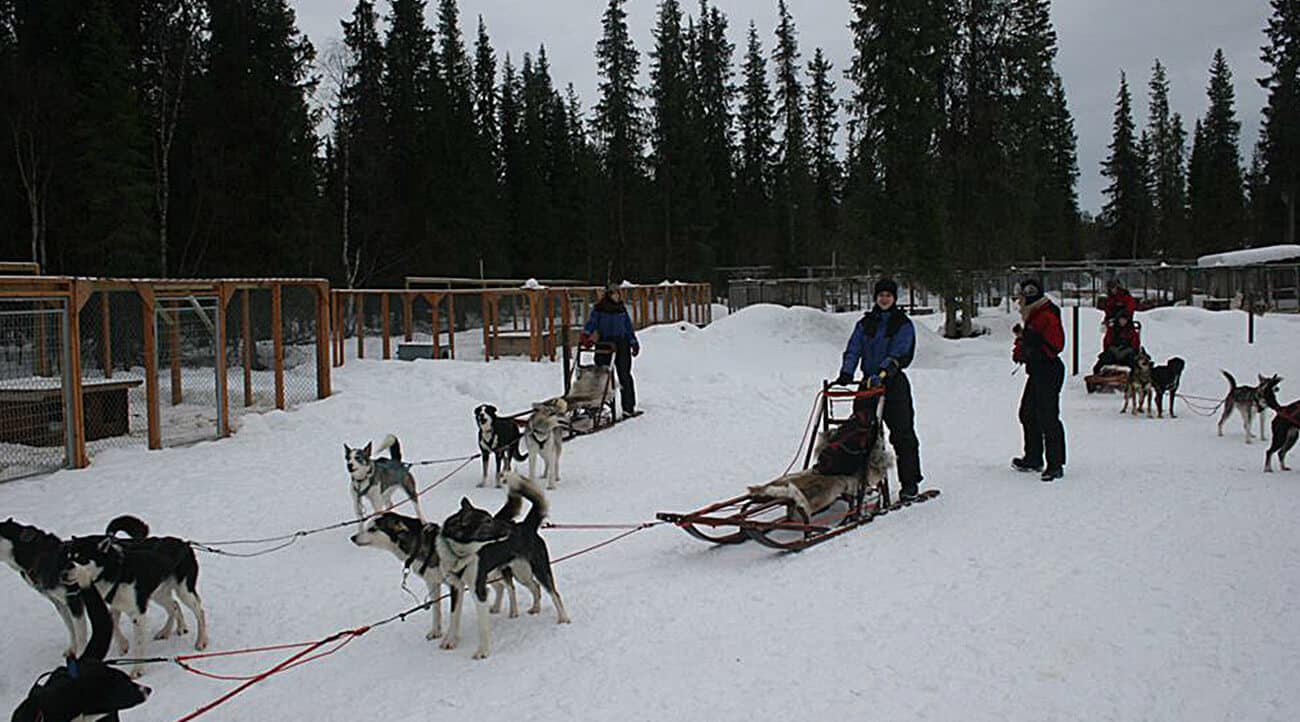 Discovering a Home Away from Home
Lydia's time abroad in Sweden gave her an experience she could never forget. Her university was incredibly supportive, her professors committed to her success and classmates friendly and helpful. Additionally, it allowed her to expand her understanding of the world, network with a wide variety of people and exercise her ability to adapt to new people and situations – three qualities that employers highly value.  "One of the most important lessons I learned was that there are different ways of doing things and one way is not necessarily better than the other," says Lydia. "I feel like the more places I've travelled to, the broader my worldview has become and the more balanced I am in my opinions and discussions."
While she found the mental leap to adjust to an unfamiliar place to be her biggest obstacle, it's one that's evolved her into stronger person and professional. Breaking out of your routine can be a difficult thing, but it can be done with determination and an open heart.
For students worried that they wouldn't be able to afford a trip abroad, Lydia recommends doing some research first. Since tuition costs are likely to be the same, all you need to do is look into the costs of living in the city you'd like to live in – it might end up being cheaper than where you currently live! She also notes that there are many scholarships and bursaries available for students who want to live abroad.
Sparking a Love for Travel
Completing her Master's degree in Sweden was only the beginning of Lydia's global pathway. Inspired by her experiences, she plans to pursue a PhD or work abroad. "Independence is probably the most important skill I learned," she says, "I also learned to have confidence in my own ideas and abilities." She can now take this confidence anywhere she goes and apply it to be successful in any academic or professional position she chooses.
So, what destinations does she have in mind? For starters, she wants to travel to Nepal and New Zealand to go hiking. No matter where she chooses to go however, Lydia is excited and ready to continue discovering new cultures and experiences. Thus, studying abroad was not Lydia's final destination…
Lydia's Top Three Tips for Studying Abroad
Choose Challenge Over Comfort: try to pick an exciting destination that's out of your comfort zone. This is the type of locale that will challenge you to grow.
Make an Effort to Learn the language: even if you never become fluent, it's cool to be able to shop at the grocery store and know how to pronounce the names of things.
Go Out and Do Things: don't spend all your time abroad Skyping with people from back home. Go out and make new friends!
Thinking of studying abroad after reading Lydia's story? Take a look at our Study and Go Abroad page to get started!
Contributed by:
Lauren Sutherland, TalentEgg.ca
TalentEgg.ca is Canada's leading job board and online career resource for college and university students and recent graduates