Europe is home to thousands of incredible universities, institutions and schools, and every year millions of international students travel to Europe for their studies. If you want to get away and have the experience of a lifetime or set yourself up for an international career, studying in Europe is the perfect answer.
Here are 6 reasons why you should study in Europe:

Soak up the History and Culture
Europe is full of history. It doesn't matter where you choose to study, you'll be sure to find centuries of history in the city you live in and, likely, in the institution you attend. In Europe, there is a strong focus on blending art, culture, and history with innovation. Wherever you study, you'll be able to wander around the many museums and art exhibits (often free), historical homes, castles and places of worship to fully experience another culture. If you want to be inspired throughout your studies, Europe is a great place to be.
Gain Confidence
You simply can't travel to Europe to live and study without growing enormously as a person. While many Europeans speak English, you'll likely have to learn a new language or develop your existing language skills to tackle the challenges of everyday life in a new country. Many universities now offer programs in English, so you don't have to study in another language, but you'll quickly pick up the native language as you travel, eat out and make new friends. By the end of your studies, you'll feel ready to take on any new situation you are required to.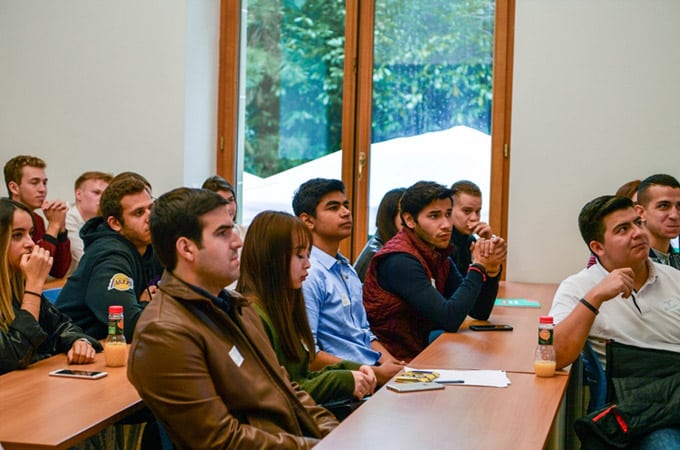 Become More Employable
It doesn't matter if your future job is based in one location or if it requires you to travel internationally, employers love well-traveled people. If you've lived and studied in a different country you will have adapted to a completely new environment and found a way to thrive there. And, if the job has an international aspect, you'll have an edge over your peers because you'll have better communication skills and international experience.
Choose From an 'Educational Buffet'
Whatever subject area you'd like to study, you'll find programs in that field in Europe, and many will be English taught. Choose from thousands of undergraduate program, graduate degrees, certificates, diplomas and more – so you can follow your passion and experience a whole new way of life. An advantage of studying in Europe is that higher education across the continent is aligned, meaning that studying a Master's degree in Barcelona is the same as studying one in Munich, so you'll gain the same qualification no matter where you study.
Enjoy Lower Tuition Fees Than at Home
As a Canadian, you'll likely find the tuition fees abroad are far lower than they are at home. This means you can better afford your education and graduate with less debt. Living costs are also likely cheaper which leaves more for your travel budget! Many countries also offer international scholarships and bursaries for talented students, so make sure you research what extra funding may be available to you.
Travel Europe
If you come to study and live in Europe, you'll also have a great opportunity to travel and see the rest of the continent on weekends. The public transport networks across Europe are efficient and affordable, and flights are also cheap if you keep an eye out for a good deal. If you end up studying in Madrid, you can travel to Rome and Bucharest by train for two or three days to explore the sights and learn about a different culture.