Studying in Europe can be a real life-changing adventure for Canadian students. Not only will you be immersed in a whole different culture, but you will have to take on all the responsibilities of independent living!
One of the biggest challenges Canadian students face when studying in Europe is budgeting. It might not seem like such a big deal before you leave, but once you're there, you might find that money simply disappears without you actually being aware of what you're spending it on.
That's why it's important to have a good budgeting plan and find ways to save while you're studying abroad. This way, you will not only get the enriching experience of living and studying in a foreign country, but also learn the skills of money-saving and financial responsibility!
1. Plan Your Budget and Stick To It
It might be quite challenging to plan a budget before you even arrive at your destination,  but it's a useful step in estimating your expenses and controlling your finances while you're abroad.
If you're not sure how much you're going to spend while you're studying in a particular city, you can use Numbeo. After you pick the city, you can see the average price for a number of expenses: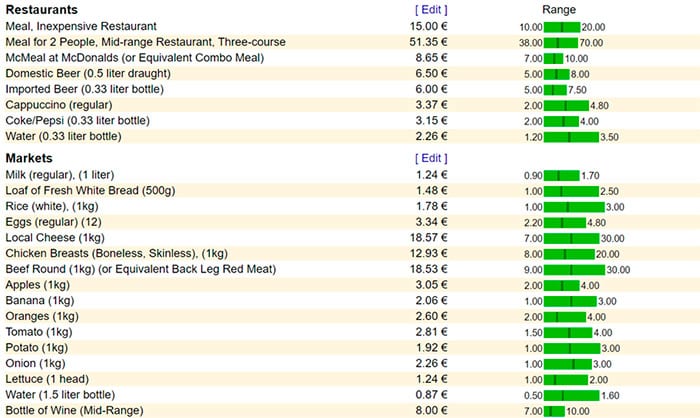 Numbeo will show you the average prices you can expect for things like:
eating out (both cheap and expensive restaurants)
food and drinks
transportation
utilities
sports and leisure
clothes
rent
You can also find out the average monthly net salary in the city that you're studying in.
For an even clearer image, you can compare the city that you will be studying in with your hometown (e.g. Vancouver):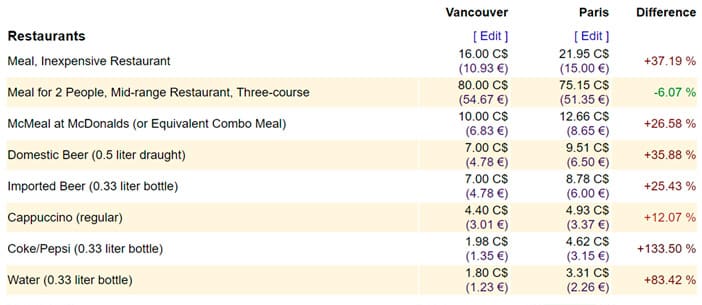 As you can see, there's a cool 'Difference' feature that will show you how much more expensive or cheaper expenses might be, depending on the particular product or service.
As for budget planning, you can do it the old-fashioned way using pen and paper or in an Excel sheet on your computer, but you can also use some of these budgeting apps that include advanced options:
2. Find the Perfect Accommodation with the Help of Locals
Just like in Canada, the biggest portion of your budget will go to covering rent. Depending on where you study in Europe, rent prices can range anywhere from cheap to exorbitant.
Some countries, for example Central Europe, have a lower cost of living, so setting money aside for rent shouldn't be that much of a problem. However, if you are studying in big, metropolitan cities like London, Paris or Barcelona, you will have to approach the problem of flat-hunting very carefully.
The first thing you need to be careful of is accommodation-seeking companies and agents. Sure, it might be easier to approach a professional company, especially if you don't speak the language, but they are known to severely overcharge their clients, both in service fees and rent commissions.
The first step is to find the most popular websites for accommodation listings in your future city. If you find something you like, there will likely be no problem contacting the listing owner in English as the majority of Europeans speak English.  If the apartment owner doesn't speak English, seek help from locals who can communicate on  your behalf.
Be very careful about booking long-term accommodation online without seeing it. One way to get around this is to stay in temporary accommodation once you arrive for a week or so. During this time, you can go see apartments and rooms in person and talk to the landlords face-to-face.
3. Cook for Yourself and Avoid Eating Out
When you're a student, your schedule can be so tight that you often opt for takeout or eating in restaurants and fast food joints. However, if you do this often, it'll quickly burn a hole in your budget.
By buying groceries from a local store or supermarket and preparing the food yourself, you can save a ton of money. According to Forbes, you can save up to 90% by cooking at home instead of eating out.
Cooking at home is not only good for your budget, but also better for your health. If you often eat out, you will likely be consuming a lot of carbs, saturated fat, and other unhealthy compounds. By cooking for yourself and buying your groceries, you can choose to have a more balanced diet and stick to it.
4. Watch for Tourist Traps
When you're in a new city, everything seems exciting and you don't want to waste any time and miss precious opportunities. You'll likely want to some buy gifts and souvenirs for your family and friends at home, and might end up spending a huge chunk of your budget on these.
If you're in a tourist-friendly city, watch out for places that overcharge their visitors such as tourist restaurants, cafes, bars, and shops. You will be much better off going to places where locals go and where prices are fair.
Try to postpone your souvenir and gift shopping until the last few weeks of your study-abroad adventure. By that time you will have already figured out where you can find the coolest stuff at reasonable prices.
5. Use Student Discounts Whenever You Can
Students in Europe can take advantage of many discounts that allow them to budget and save money on all sorts of activities and products.
Many stores offer student discounts, so do some research beforehand and find out which shops offer discounts and buy your stuff there.
You can also likely get student discounts for club entry fees, theatre tickets, movies, exhibitions, and much more. Using these discounts, you can fully immerse yourself in the social and cultural life of your host city without breaking the bank.
Conclusion
Being abroad, especially while studying, is like trying to stick to a budget on hard mode. Even if you're great at saving money and living frugally back in Canada, there will undoubtedly be lots of temptations to spend money in Europe.
If you prepare in advance and prioritize budgeting during your studies abroad, you can save a lot of money and enjoy your unforgettable experience at the same time.
Having a plan, and taking note of a few of these tips will help you not to stress too much about money so that you can focus on enjoying every second of your amazing experience. You don't have to overspend and live in lavish luxury to enjoy and have the best trip ever!,
Contributed by:
Kristin Savage is interested in writing and planning to publish her own book in the near future. Also, she has been a reviewer at IsAccurate for a few years and is known for her thorough approach to accurately assess newcomer translation services. You can find her on Facebook.