Northern Norway offers education of high quality as well as exotic experiences at high latitudes. Canadian students pay no tuition while studying here. In addition, they are eligible for scholarships covering travel and accommodation.
If you travel north in Canada, to the Yukon territories or to Baffin Island in Nunavut, and stop at 66 degrees north, you will be standing on an imaginary circle of latitude that indicates the borders of the Arctic. This is the Arctic Circle, where the lands of eternal winter, polar bears and the midnight sun begin.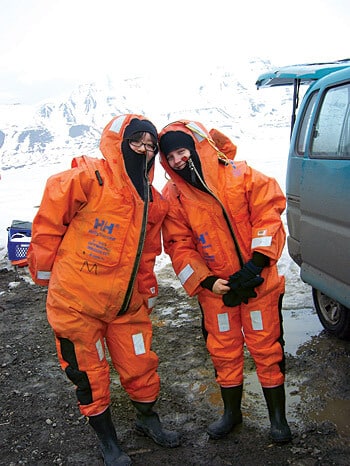 If you travel east from here, across the cold landmasses of Greenland and the vast Atlantic Ocean, you arrive at the shores of Northern Norway. There, you will find a climate dramatically different from Canada's high latitudes. Thanks to the warm currents of the Gulf Stream, people live and thrive, apples are grown, and – despite what mischievous locals might tell you – there are no polar bears roaming the streets.
There are seven institutions of higher education located north of the Arctic Circle in Norway. The largest, the University of Tromsoe (UiT), is the world's northernmost university. There are five university colleges located in the region, each with distinct approaches to the surrounding environments. The most remote institution, the University Centre of Svalbard (UNIS), is located on an island at 78 degrees north, over 800 kilometres from the mainland. Undergraduate and graduate students can come here to study the Arctic through subjects such as Biology, Geology, Geophysics and Technology.
The University of Tromsoe's academic options and spectacular surroundings attract international students from all over the world. The institution offers 24 Master's degree programs taught in English in a variety of fields such as science and technology, human rights, indigenous studies, fisheries and laws of the sea.
SIU – Senter for internasjonalisering av høgre utdanning/ Norwegian Centre for International Cooperation in Higher Education
linda.prestegard@siu.no
www.siu.no
www.studyinnorway.no