Meet three students who came to New Zealand to prepare themselves for careers in the exciting travel and tourism industry – and beyond.
New Zealand is one of the world's most sought-after travel destinations.
In fact, the tourism sector is the country's single biggest earner; last year, tourists contributed over NZD$39 billion to the economy. One in seven New Zealanders are directly employed by the industry.
Drawn by not only our impressive tourism offering, but our high-quality tertiary education, international students come here from all over the globe to equip themselves with the skills necessary for a career less ordinary.
ANTHONY WU
Every day on his way to work, Anthony Wu watched "beautiful" advertisements promoting New Zealand's tourism industry.
Anthony knew he would like it. He didn't realise, however, quite how much a New Zealand education would change his life.
The former pharmaceutical sales rep decided to make a completely new start, and enrolled at the International Travel College of New Zealand. Anthony graduated earlier this year with a New Zealand Diploma in International Tourism and Travel Management (Level 5) with Distinction.
Studying in New Zealand was very different to his experience studying business in Shanghai.
"The tutors here are focused on us really understanding what we're learning, and then applying it to life and work, not just for the final exam, which is fantastic," he says.
Anthony has already secured a position as a travel consultant and product development specialist at Pan Pacific Travel in central Auckland. His primary responsibility is to create customised travel itineraries according to customer requests. Recently, Anthony collaborated with China HH Travel to create a 55-day world tour priced at NZD$200,000 per person.
"Studying in New Zealand has become a milestone in my life," he says.
VEDANT SHARMA
Vedant Sharma's new life in rural New Zealand – the South Island's Fiordland, to be exact –  couldn't be more different to his childhood in the bustling metropolis of New Delhi.
But the former international student, now a senior nature guide in the Te Anau Caves, wouldn't have it any other way.
Vedant studied at Queenstown Resort College (QRC), graduating with a Diploma in Adventure Tourism Management in 2013.
New Zealand struck Vedant as somewhere that both aligned with his personal values and offered him the career path he wanted.
"I wanted a foreign education," he says. "I wasn't really keen on an office job – I wanted to do something outside. New Zealand was so different to what I had experienced in my life."
He loved QRC for its proximity to Fiordland, and its welcoming, kind tutors and fellow students.
These days, he's employed to spend almost all of his time in the great outdoors – "walking around the caves, sharing information with visitors and cracking bad jokes".
MADELINE JANZEN
Originally hailing from Canada, Madeline Janzen is currently working towards her Diploma in Commercial Skydiving at the New Zealand Skydiving School in Auckland.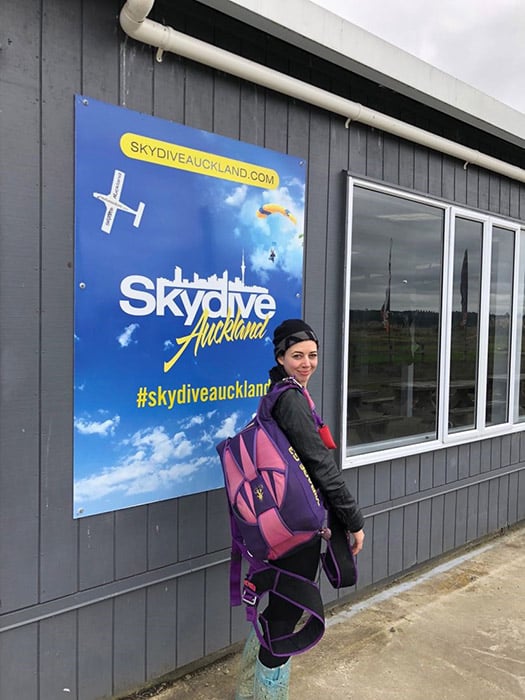 At the end of her one-year course, Madeline will be the proud holder of a Skydiving C Licence. This means she will be fully qualified to work at a skydiving 'dropzone' – the name given to a recreational skydiving base.
However, Madeline actually sought after this particular qualification in order to further her military career. She's currently a infantry rifleman in the Canadian army, with an eye on joining the jump squad.
"I somehow convinced them to let me come over here," she says. "It carries over really well."
Madeline says her course was "incredibly unique", bringing together people of all different backgrounds. The final module of the course was a three-month apprenticeship, which provided experience Madeline found invaluable.
"Compared to study back home, there's a lot of hands-on experience.
"I can say that New Zealand will have a warm spot in my heart forever."
New Zealand is a world leader in tourism
In 1988, AJ Hackett started the first commercial bungy jumping enterprise in the world at the Kawarau Gorge Suspension Bridge, just outside Queenstown in New Zealand's South Island.
New Zealand farmer Bill Hamilton invented the jet boat in 1950. Today, jet boating – in shallow waters, over whitewater rapids and even below the North Island's famous Huka Falls – is one of the most popular tourist activities in New Zealand.
Lake Taupo in central North Island has the largest commercial drop zone in the world.
Considering studying tourism?
There are a number of courses available to study in New Zealand, from adventure tourism and flight attendant training to tourism management and applied hospitality.
For further information for students, visit www.studyinnewzealand.govt.nz