There are as many reasons to study abroad as there are international students.
When asked about their motivation to study abroad most students will of course – being good students – recite a textbook answer: "To improve my language skills" or "To enhance my resume of experience to get a good job". But behind these practical and indeed very good reasons, often lies something deeper – and something much more personal.
One such reason to study abroad is to explore your cultural heritage. Each year many 'heritage-seeking' students come to Korean universities from all over the globe, sharing one thing in common: the desire to learn more about the country of their origins. Having been born and raised abroad, and as a result not very familiar with Korean customs, food or language, these students seek to learn more about the land of their ancestors, to get a better sense of their own cultural identity.
"We see a large number of what we dub 'heritage-seeking' international students participating in our programs," says Mr. Jongkeun Kim, Manager of Student Mobility programs at Korea University, one of the nation's leading private universities. "I would estimate that perhaps 10 to 15 percent of our incoming international students have some Korean background, either through their families having emigrated years ago, or through being adopted abroad."
Indeed the extent of the Korean diaspora is much larger and more vast than many realize. Consisting of nearly seven million people scattered over 100 countries, there are Koreans in almost every corner of the globe. However, five countries currently make up about 85 percent of the total diaspora . . . China, USA, Japan, Canada, and Russia.
Mikhail Li, currently a Master's student in convention management, is a good example of someone who came to Korea to explore his family's roots while continuing his studies. With a mischievous smile and a playful demeanor, Mikhail is a friendly and talkative young man in his mid-twenties, who will be finishing his studies in Korea in February, 2011.
"After I graduated from school in Russia, I decided to come to Korea to take a degree and at the same time learn more about my family's heritage," says Mikhail. "When I was growing up, I often wondered about what Korea was like and how it had influenced my family, so when I heard of an opportunity to study there, I jumped at it."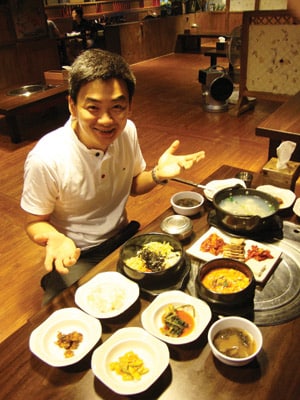 Mikhail's family has lived in Uzbekistan, one of the former Russian Soviet republics, for over three generations. He has traced their roots from the time of Stalin's resettlement of ethnic minorities in the region during the first half of the last century. Mikhail was born in Tashkent, the capital of Uzbekistan, but moved to Sakhalin Island (which is in Far East of Russia) before eventually coming to Korea.
"I have really learned a lot in Korea. Not only will I have gained a solid education, but I have also greatly improved my Korean language skills, which were basically non-existent before I got here. Beyond having heard my grandparents speaking Korean with a unique Central Asian dialect, I really had to start as a beginner."
But, like all personal growth experiences, coming to Korea was also challenging at times. Mikhail admits that being a foreigner, but looking Asian, can sometimes create confusion. "Most people I meet for the first time think I am Korean so they don't understand why I am not always acting or saying things in a typically Korean way. As a result they think I am either Japanese or Chinese. It takes a while for people to figure out my history and background."
Students also commonly speak of understanding themselves better through their study abroad experience. "Before, if someone asked me I would say 'I am a typical Russian guy,' but now, after being here for a few years, I can say that I am sort of half-and-half," exclaims Mikhail with a laugh. "Koreans have a very strong sense of ethnic identity and it can't help but rub off on you. I think these changes in my personality are positive – I have become more attentive to others' and I am also much more aware of the social pecking order that is still very important here."
"Being an international student has really changed me, because it has given me a chance to live and study in a country that is important to me and my family. Coming here has helped me to better understand who I really am."
When asked about one of his most memorable moments when he first came to Korea, Mikhail quickly replied: "Honestly, when I first came here I was surprised at people eating kimchi at every meal – breakfast, lunch and dinner. Back home my family would sometimes serve it on special holidays, and I never really ate it much. But having been in Korea a while now however, I really love it!"
Contributed by:
D'Arcy Drachenberg
D'Arcy, a Canadian citizen, is currently Manager of International Communications and Protocol at the Office of International Affairs at Korea University. He has an MBA from the Korea Development Institute of Public Policy & Management in Seoul.