Participate in free webinars hosted between November 7 – December 15 to learn more about Bachelor, Master, PhD and PostDoc studies in Baden-Württemberg, in the German SouthWest.
Hosted by Career Start BW, these webinars will help you get started in planning your studies and in launching your academic career.
Get Started in Baden-Württemberg – start your academic career in the German Southwest.
Baden-Württemberg is at the forefront of academic research and instruction. In fact, many Nobel prize winners did their most important work in one of the state's universities and research institutions. Join a network of bright minds who are working on the future of mobility, health, energy, and digitalization.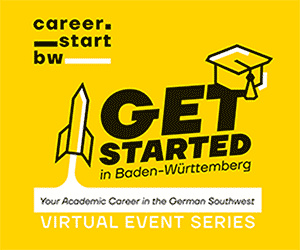 The webinars will include:
useful information about studying and researching in Baden-Württemberg
career training
an opportunity to talk to university epresentatives and ask questions
inside information from former international alumni who will share their experience
Webinar schedule:
Attend this webinar to learn about studying, researching and other opportunities in Baden-Württemberg. Take advantage of this opportunity to talk to Baden-Württemberg university representatives, as well as international alumni who will share their first-hand experiences.
In the Career-related webinars, presented by Career Coach, Jessica Schüller, you'll gain useful tips on career planning and application procedures, tips on networking via LinkedIn in Baden-Württemberg, as well as insights from Baden-Württemberg's international student career coaches.
Learn more about the German Southwest on their website, and sign up for the webinars:
#careerstartbw #career #studyabroad #germansouthwest #germany #baden-württemberg #Study #Research #studyingermany #bachelor #master #phd #PostDoc #university #sucessful #academiccareer #academic