France is the leading destination for tourism and Paris has been ranked as the best city to study (QS). The country offers one of the most prestigious education systems in the world.
Studying in France also means joining a society rightly renowned for its practice of the 'art of living.'
FRENCH SYSTEM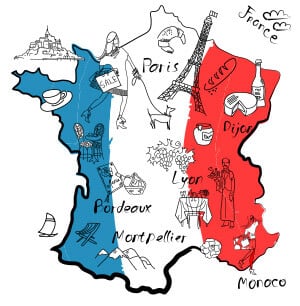 The quality of French higher education is widely recognized throughout the world. French institutions figure prominently in the Shanghai Classification of Universities, in the rankings of the Financial Times and Times Higher, and in the European Report on Science and Technologies published by the European Commission.
Each year, France makes massive investments in education and research. In fact, education is the largest category of government spending, accounting for more than 20% of the budget.
French Higher Education offers three categories of studies:
Universities
Grandes Ecoles
Specialized Schools
1) Universities
83 universities (70% of the total students attend these)
Licence (Bachelor), Master and PhD are offered at universities
Are public and highly subsidized by the French Government
Domestic and international students pay the same tuition fees that represent a small portion of the real cost (ie., real cost for a first year student: 5000 euros – Tuition fees paid by the student: 175 euros)
Masters Degrees offer a very
high- level education
Lead to internationally recognized qualifications (licence, master's and PhD) and European degrees
Offer various types of programs (short, long, vocational and long-live education) in many different areas (including law, economics, management, administration, literature, languages, arts, social sciences, health, technology and more)
Are centres of excellence for French research
2) Grandes Ecoles
Grandes Ecoles, a very selective system
These include schools of engineering, business, management, political sciences and administration
224 Engineering schools
220 Business and management schools
3) Specialized Schools
120 Art schools, 20 architecture schools, 3000 specialized schools and institutes
These offer training in specific areas such as the architecture, culinary, journalism, radio and television, social services and more…
Students are awarded State diplomas or the institute's own diplomas/certificates
OPPORTUNITIES TO STUDY IN FRANCE
1. One or two semesters: Student exchange
Most Canadian universities have agreements with French institutions. Usually the 'year abroad' is during the 3rd year of undergraduate studies. You can study in France for one or two semesters, which will allow you to transfer your credits from the French institution to your Canadian university. To obtain the list of agreements from your university, contact the International relations department at your school and they should be able to advise you on programs that should fit your curriculum.
Should your university not have a partner in France that offers the program that fits your curriculum, you can ask for a 'Letter of Permission' from your university and register directly to a French university.
2. Undergraduate studies
France offers three year undergraduate Programs at university called Licence:
L1 = First year
L2 = Second Year
L3 = Third year
3. Graduate Studies
Master's Degree are two year programs:
M1 = 1st year of Master
M2 = 2nd year of Master
4. Programs taught in English
Each year a growing number of programs taught in English are offered in France. Most of them will be in the field of Engineering and Management/Business, but you will also find Humanities, Tourism, etc.
www.campusfrance.org/en/page/programs-taught-english
5. Summer Programs
Although most universities in France close during summer, some summer programs are offered in English and various fields such as humanities, engineering, mathematics, business/management, etc. You can find these programs in the same catalogue of 'Programs taught in English.' Choose the field of studies and then use 'summer' as the keyword.
www.campusfrance.org/en/page/programs-taught-english
6. French as a Second Language
a) In France
Should you want to learn French in France, we have a comprehensive catalogue that lists institutions located in all regions of France. Courses are any level, any length and everywhere in France.
b) In Canada
Should you want to learn French in Canada, we have a network of Alliance Française:
7. How to enrol to a French Institution?
a) How to find a program
Campus France offers a comprehensive search engine: www.campusfrance.org/en/node/6489
b) Register to 1st or 2nd year university (Licence 1 or 2)
To register to 1st or 2nd year University (Licence 1 and 2):
You need to fill a Dossier Blanc (DAP- Demande d'Admission Préalable). The file will be available starting end of November on the website and needs to be returned to your local French consulate or Embassy by January 22 (deadline). You will need to take a French test called TCF-DAP.
Official link to DAP:
www.enseignementsup-recherche.gouv.fr/cid24144/-dossier-blanc-demande-d-admission-prealable-inscription-en-premier-cycle.html
c) General registration (except for 1st and 2nd year university)
To register to:
French classes (French as a Foreign language)
Grandes Ecoles
Specialized schools
3rd year Bachelor (Licence 3)
Master
PhD
You need to register directly to the institution in France by contacting the International Relations office.
WORKING IN FRANCE: OPPORTUNITIES FOR TEMPORARY JOB EXPERIENCES IN FRANCE
1. English assistant program in France (TAPIF)
The Teaching Assistant Program in France is administered by the Centre International d'Etudes Pédagogiques (CIEP – French Ministry of Education) and the Cultural Service of the French Embassy (Ottawa). It gives Canadian students aged 20 to 35 the opportunity to live in France for seven months while teaching English language in French schools. It is open to Canadian citizens (or permanent resident) who are enrolled in a university and have completed at least two years of higher education or to students who have graduated within the two previous years, at the time of application.
frenchhighereducation.org/teaching-assistant-program
2. France-Canada Youth Agreement (Experience France)
This visa allows Canadians citizens to travel to France for touristic and cultural purposes, all the while being authorized to work for financial gain. You will be allowed to stay in France up to 12 months.
The France-Canada Youth Mobility agreement aims at providing young Canadian citizens (aged between 18 and 35) with the opportunity of traveling, studying and working in France. Among the 4 visa categories of this agreement, Young Canadians wishing to have a professional experience in France may apply to :
The Young Professional Development (3A visa)
This type of visa is meant for young professionals interested in obtaining initial experience or further development under a limited work contract in their field of activity and in improving their understanding of the French language, culture, and society. This program also applies to Canadians who have received an offer to take part in Canadian duty-to-remember programs in the Juno Beach or Vimy regions.
Practical Internship (3C visa)
This type of visa applies to young Canadians wishing to pursue a practical internship as part of their studies or their training. The internship conditions must be defined by a tripartite internship agreement between the home establishment in Canada, the host establishment in France, and the student.
The Working Holiday Visa (3D visa)
This visa allows Canadians citizens to travel to France for touristic and cultural purposes, all the while being authorized to work for financial gain. You will be allowed to stay in France up to 12 months.
For more information and to apply (no application fees apply), please visit: france-visas.gouv.fr/en_US/web/france-visas/young-traveller
3. Working in France while a student
a) Working while enrolled
International students have the right to work while studying in France, as long as they are enrolled in an institution that participates in the national student health-care plan. Students who are not nationals of EU member countries must also hold a valid residency permit. The right to work applies to all students, including those who are in France for the first time; those who are enrolled in the first year of a university program; and those who are enrolled full-time in a language school.
The law allows students to work 964 hours in a given year, which corresponds to 60% of full-time employment for the year. Remember that you can't expect to meet all of your expenses by working part-time, so you must have other means of support.
France has a national minimum hourly wage, known as the SMIC. The SMIC presently stands at EURO 9/hour per hour, before mandatory withholding for social benefits. Withholding reduces the worker's net pay by about 20%.
www.campusfrance.org/en/working-student
b) Working after graduation
Students who hold a master's degree or the equivalent may apply for a temporary, non-renewable residency permit valid for six months following the expiration of the student residency permit.
The six-month permit allows you to work at a job of your choice at up to 60% percent of full-time employment.
If you obtain an employment contract related to your educational program and providing remuneration of at least 150% of the SMIC, you are then authorized to work full-time and must submit a request for change of status (from student to employee) at the prefecture with jurisdiction over your place of residence.
www.campusfrance.org/en/how-to-find-work-France
NEED MORE INFORMATION? CAMPUS FRANCE CANADA
Campus France is a French national agency for the promotion of higher education, international student services, and international mobility. Thanks to its global network of 250 locations, Campus France informs international students about French higher education and guides them to shape their study project in France.
Campus France Canada has 3 offices accross the country: Montréal, Ottawa and Toronto and they service all Canada.
Contributed by:
Peggy HARVEY
Chargée des Échanges Universitaires/University Exchange Officer
Campus France, Toronto