Most international students look for a part-time job. It's a great way to integrate into the Finnish community and to network outside of the university campus. It's also a way to cover your living costs in Finland. Read on for tips on how to find a part-time job in Finland.
As a student, you can work for up to 25 hours a week while studying during the semester and, during the summer months, when there are no classes, there is no limit to the hours you can work. There is no minimum wage in Finland, but the lowest salaries range between 7 to 8 euros per hour. Students usually earn between 9 to 13 euros per hour depending on the sector and working hours. Evening shifts and Sundays pay better, and sectors such as software engineering and information technology pay really well for students.
There are two peak seasons during the year when employers are looking to recruit new staff; in December, just before the winter break, and just before the summer break. You are more likely to find work during these times of the year, but it's good to apply well in advance.
Apply to as many jobs as you can. While waiting for companies to reply, call the recruiter directly to demonstrate that you are really motivated for the job. The phone conversation will give you a chance to leave a good impression.
Types of part-time work
Working in a restaurant, cleaning or delivering food or newspapers are common part-time jobs for both Finnish and international students. Part-time cleaners usually work through a reputable Finnish company and it is not a job to be frowned upon. Students that take up cleaning as a part-time job tend to work in locations such as hotels, restaurants, ferries, shopping malls or company offices.
If you choose to work in a restaurant or cafeteria, you might wash dishes, wait on tables or help in the kitchen. To do this type of work, you'll need a certificate called a hygiene passport  that demonstrates that you know how to handle unpacked and easily perishable foods. Employers prefer to recruit students who already have a hygiene passport, so we would recommend getting one before applying for a job. It will be an asset in your resume.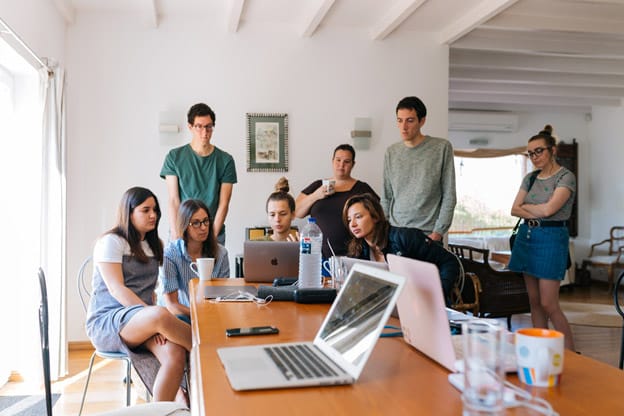 Where to look for a job
Probably the most important thing is to be active and to network within and off campus. Word of mouth is a very powerful tool and people often find jobs through a recommendation from a friend or acquaintance. Keep your LinkedIn profile up-to-date and use the career services at your university. Let everybody know that you are looking for a job.
Job announcements are published on job seeking websites and on the companies' own website. The government's job search portal is called TE service. Private job seeking pages include Monster, Barona, Adecco, and The Hub. There are some portals such as Indeed and Duunitori that use mostly Finnish language in the job ads, so turn on Google translate to find suitable jobs.Also, well-known cleaning companies in Finland such as Sol and Freska and food delivery companies such as Foodora and Wolt are often looking for new staff.
How to find a part-time job in your field
If you want to find a job related to your major, it may take more time and effort. It will be really important to start networking from day one and proactively use the career services at your university.
Some degrees are particularly in high demand in Finland. For instance, according to the Technology Industries of Finland, there will be a need for more than 53 000 new employees within the information, communication and technology sectors by 2021. Generally, software programmers and IT students working in fields such as digitalization, artificial intelligence, data analytics and robotics tend to get well-paid part-time jobs while studying. Also tourism and health care sectors need skilled workers. However, in the health care sector you must have at least basic Finnish language skills (B1 level). Hence, it's a good idea to start learning Finnish at the beginning of your studies to help your future job prospects.
Edunation offers several study programs that pave your way to a successful career in computer sciences and information technology sector. These include:
Read more about working in Finland on our blog.