A Pacific Perspective!
The University of the South Pacific provides a fun, culturally rich and unique study abroad experience for Canadian Students. Our international educators and staff will provide you with an enriching academic environment, while you enjoy scuba diving, sailing, surfing, hiking or just relaxing at a beach on the weekends. Our study abroad programmes is open at the Undergraduate and graduate level.
Study Abroad
Students who are already in a university system back at their home university can apply to study for a semester or year at USP. Our Study Abroad Programme is open at the undergraduate level and allows for study abroad students to select courses in any field in bachelor's degree. In order to select courses within the study abroad programme, students must meet the pre-requisites or have courses approved by Course Coordinators of a particular course. Study abroad students may take a minimum of 3 and a maximum of 4 courses per semester. All our academic courses are credited and the University issues an official credit letter and a transcript at the end of the programme. Study Abroad at an Affordable Cost!
What you can study?
Students at the Undergraduate level can enroll and register up to 4 courses from a range of disciplines per semester, while students at the graduate level can enroll and register in up to 2 courses per semester. The most popular courses for study abroad students are Geography, environmental studies, Marine studies, Tourism and Hospitality and Pacific studies. Other courses available for study abroad include Accounting, Agriculture, Biology, Business, Chemistry, Earth Science, Economics, Education, Engineering, English, Finance, Geography, History, Information Technology, Journalism, Language & Literature, Law, Management, Pacific Policing, Physics, Psychology, Social Work, Sociology and many more!
Culture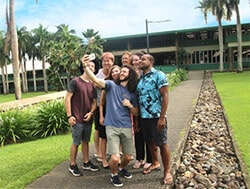 Walking around the university and the surrounding environment brings you in contact with different faces, smiles and personalities. Given that USP is made up of 12 member countries, there is a rich and vibrant culture within the university. Mixing the cultures guarantees you nothing less than a rich, exciting and enjoyable cultural experience! When you come to study with us, we will show you how we live our lives – cook our food, dance and live each day. As people of the Pacific, we are glad to share our lifestyle with you and we hope to learn from your time here with us!
Study Explore Enjoy FIJI
Email: international@usp.ac.fj
www.international.usp.ac.fj
www.facebook.com/uspinternational