Estonia boasts a long tradition of providing quality education. Its vibrant and international education environment, endowed with the latest developments in information technology, makes Estonia an attractive place for young people looking to live and study abroad. The recognized quality education, together with relatively low tuition and living costs in this small EU member state, guarantee international students good value for money.
This academic year (2014/2015) Estonia hosted nearly 2900 international degree students, more than 1000 exchange students, and 400 participants of summer or winter universities.
Estonia has developed rapidly during the last decades and there are many things that are very attractive for international students:
Internationally accepted diplomas
English language widely spoken
Free internet access nearly everywhere
Vibrant student life
The personal touch
Value for money
A safe and stable environment
Excellent support services from the universities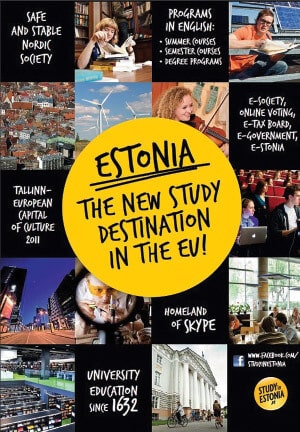 Estonia has more than 150 study programs that are taught in English at the Bachelor's degree, Master's degree and Doctoral degree levels: Animation, political sciences, cyber security, choral conducting, technology governance, semiotics, business administration and communication management are only some of them.
Some interesting facts you might not know about Estonia:
Estonia was the first country to facilitate online voting nationwide
The capital city of Tallinn has been chosen four times among the world's seven most intelligent communities during the last decade by www.intelligentcommunity.org
Estonia is an E-SOCIETY, with electronic ID-cards, e-government, e-Tax
Homeland of Skype – the SKYPE software was developed by Estonians
Ranked 2nd in the world for Internet access in schools (1st Iceland, 3rd Finland, The Global Information Technology Report 2013)
Estonia is the 3rd worldwide in The Press Freedom Index (2nd place Norway, 1st place Finland)
Estonia is the safest country in the world (www.ca.news.yahoo.com) and Tallinn is the most connected city in Europe (www.inventorspot.com)
Estonia has one of the highest literacy rates in the world. For Estonian adults, the literacy rate is 100%.
The International Student Barometer (IBS) has found that 89 percent of international students at Estonian universities are satisfied with the quality of education being offered (www.studyinestonia.ee)