'Danish Design' has become a powerful brand and is in many contexts used as a common trade name for a host of different products and designs, ranging from Danish furniture classics of the 1950s to contemporary industrial products such as jewellery, clothing, and bicycles – but also for projects and buildings designed by Danish architects. But the question, does it actually makes sense to talk about a particular Danish design DNA that permeates everything from wrist watches to town halls? And whether a special Danish architectural character really exists?
You might argue that today being Danish has become somewhat ''cool.'' The so-called Danish wave of young talented practices, led by BIG – which experienced success during the economic boom in the late nineties – has, in relatively little time, managed to gather considerable international attention and has helped give even relatively small and new Danish architectural offices a momentum of historic proportions. However, the so-called 'Danish wave' is only a limited section of the growth layer, and a more sober look at the breadth of Danish architecture soon reveals a far more diverse and varied picture.
Fortunately, there are still very different opinions on what good architecture is. Also in Denmark. Competing institutions, factions, individual preferences, and temperaments help ensure great diversity in Danish architecture, landscape art, and planning. Danish architecture may be riding a wave of international attention, but it has not yet struck out in a specific direction. In my view it should not be the formal characteristics that define what is special about Danish architecture.
Besides, defining Danish architecture is not entirely unproblematic. Today, the majority of the large and more established architectural firms, such as 3XN, Henning Larsen Architects and SHL, obtain their revenue from projects located outside of Denmark. Several of the industry's heavy players have long since established subsidiaries with local partners around the world. The language of work of the major Danish architectural offices is often English, as a relatively high proportion of employees come from abroad. The same applies to the two architectural programmes offered in Aarhus and Copenhagen, where foreign students today make up 20% of the total number of students admitted.
The importance of the national characteristic and the question whether nationality and national affiliations should be seen as a privileged framework for cultural identity and production is the subject of lively discussions in many different contexts. To give an example: How should you refer to yourself if you are born in Poland, hold a Bachelor's degree from TU in Berlin, an international Master from Aarhus School of Architecture, and are engaged in a promising career at 3XN's office in Sydney? Do you need Danish citizenship to promote as 'Danish Design.' or is it a tradition that can be learned and carried on?
Curating the Danish contribution to the most recent architecture biennale in Venice provided me with an opportunity to discuss these issues with a wide range of practitioners, researchers, and teachers, both inside and outside of Denmark. And the answers were startlingly similar: The main common denominator of Danish architecture is its humanistic foundation and the social commitment of the discipline.
More than 60 architectural practices, researchers, and individually practicing architects took part in the exhibition, submitting more than 130 projects which, in different ways, dealt with some fundamental questions about the way we arrange our society. Five agendas crystallised; these agenda frame the exhibition's answer to what the red thread that runs through Danish architecture is.
Claiming Space
Denmark has a long history of prioritizing public space in the cities as a fundamental value to their citizens. To care for and nurse public space is a key motive in the upholding of civic pride and communal ideals. But space is becoming ever scarcer as the density of cities increase and land prices go up, fundamentally challenging the access to the public good.
But the right to space is not solely a matter of public space. Democracy has spatial dimensions that are embedded in the Danish building law and mind-sets of Danish architects. What many consider to be inconvenient bureaucracy is not only rules but also important basic rights for people developed in parallel with the emergence of the welfare state. Through the creative and political exchange, the standards of, e.g. accessibility, sustainability, and basic rights to daylight, are constantly heightened and re-negotiated through architectural solutions. This is the praxis of humanism translated into everyday life and decisions carried out by architects every day.
Pro Community
It is a trademark of an open democracy that civic society in all its forms, both organised and disorganised, can influence decisions about space made by authorities. That public institutions, cities, and planning authorities recognise the energy and drive based in the grassroots movements of society. The opportunities of citizens to engage in the development of the built environment are key to future urban planning and architecture policies.
The success of citizens' groups to mobilize the community and successfully carry ambitious projects through to the end is maybe the best evidence of a thriving democracy, where responsibility for the common is not only managed by the authorities. The Pro Community agenda may be the closest we can get to understanding the DNA of the social cohesion that is so strong in Denmark.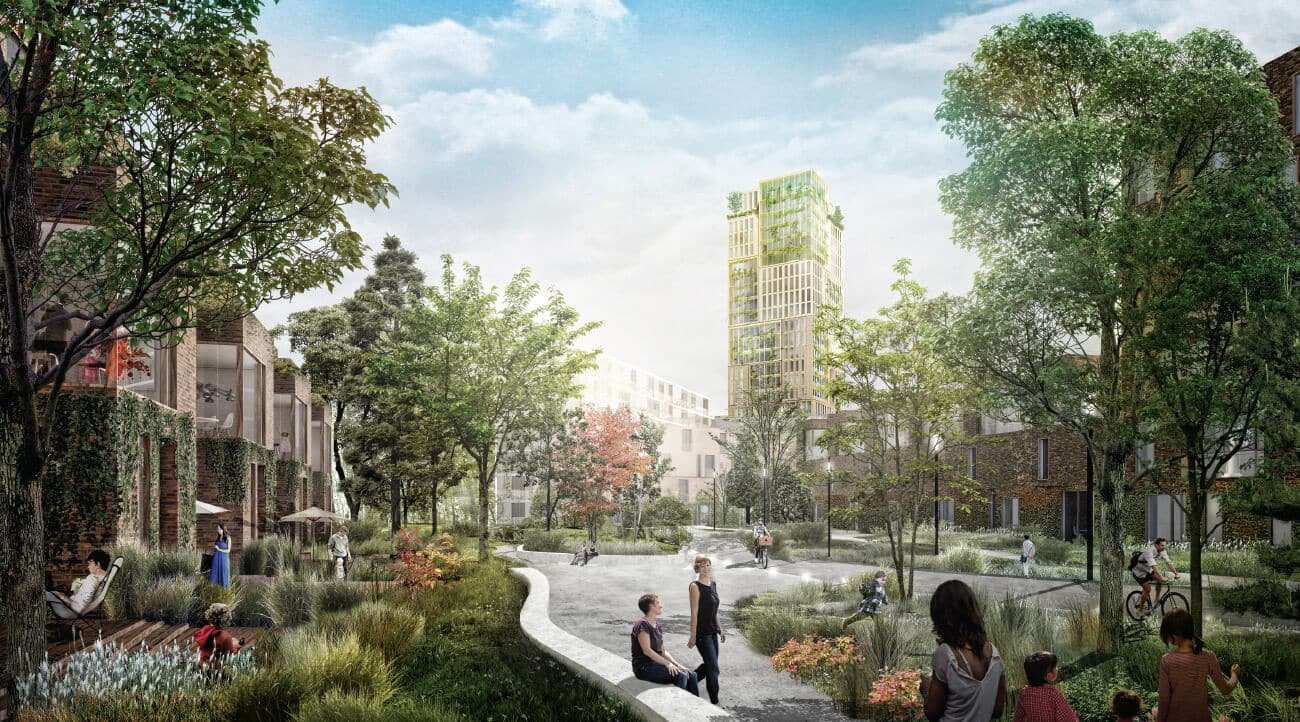 Exit Utopia
The existing official Danish architectural policy is entitled "Putting people first," and seems to be based on a strong consensus about certain humanistic fundamentals of architecture and planning; a policy anchored in a long tradition of utopian aspirations, critical thinking and acknowledgement of individual rights to achieve quality of life.
Unfortunately, progressive planning may fail, and great ideas about society may mutate into dysfunctional systems. As a matter of fact, the built heritage of the early modern age has left us with severe architectural hangovers. The claims on yesterday's utopia are manifold, and retrofitting the great model has become more expensive than rolling it out.
On one hand, the world still needs large-scale problem-solving equivalent to the massiveness of the modern movement. But the ideals of urban life have changed, and the city plans developed in the middle of the 20th century are blocking the view to the future. Massive urban growth and climate change drive a grand effort to developing new cities and transforming existing urban structures based on modernist-city thinking. Rethinking the relationship between nature and city, the overarching urban resilience agenda demanding smarter infrastructure solutions, supporting communities, and upgrading the built heritage – especially the large-scale modernist neighbourhoods – are central themes in future planning.
Beyond Luxury
The concept Gross National Happiness (GNH) was invented by Bhutan more than 40 years ago as an alternative quality-of-life indicator to the material wealth measured by the Gross National Product (GNP). GNH simply suggests that quality of life can be achieved by other means than consumption.
Access to fresh air, daylight, spatial alliances with the natural environment, and the use of local materials has previously been promoted as classic virtues of Nordic architecture. Beyond Luxury is a call for a new understanding of the relation between wealth, consumption, and well-being. I's about time we discussed how architecture and urbanism can promote a new understanding of quality of life. Beyond Luxury suggests an architecture that is something different and more than exclusive extravagance and excessive use of resources. An architecture of the humble mundane, that allows for spatial experiments in a time of crisis.
Designing Life
People's behaviour and their physical surroundings are closely linked together. Architects are designing spaces that shape the conduct of the users and create an environment that enhances their ability to learn, change or heal. The knowledge and insight into the kind of physical environment promotes social interaction and the creation of communities is a central theme alongside the artistic articulation of architectural solutions.
Putting people first is a powerful way of directing resources in society. Architecture and urban planning will always – intentionally and unintentionally – influence the behaviour of people. And it is through the understanding of the relationship between motivation, learning, and space in educational institutions that some of the biggest steps regarding well-being have been achieved.
Art of Many
The five agendas of the exhibition in Venice were brought together under the title "Art of Many," to emphasize not only Danish architecture's broad involvement with the community, but also to point out that Danish architecture is the art of many; that is, a pluralistic and diverse architecture aimed at people. A notion which is not only enshrined in current Danish architectural policy, but which also very much constitutes a set of values that permeates the Danish architectural education.
Engaging Through Architecture

"Boris Brorman Jensen is an independent researcher, consultant and practicing architect with fifteen years of research experience from architectural schools and universities around the world. He studied at Aarhus School of Architecture, pursued graduate studies at the State University of New York, in Buffalo, and obtained a PhD from Aalborg University. He has been a visiting academic at the University of Sydney and a guest lecturer at Chulalongkorn University, in Bangkok, and at the Oslo School of Architecture and Design, as well as an Aga Khan Fellow at Harvard Graduate School of Design."

Boris Brorman Jensen has published and exhibited numerous research projects on globalization, urban development and architectural theory and has been involved in several urban design and planning projects involving various collaborators.

He has curated the current Danish contribution to the 15th Venice Biennale together with Danish architectural critic and philosopher Kristoffer Lindhardt Weiss.
Contributed by:
Jørgen Helstrup, International Coordinator
Aarhus School of Architecture
www.aarch.dk
Written by:
Boris Brorman Jensen