Across the world, returning to campus for fall classes has looked very different than in the past. Fall 2020 classes are likely to be held online, blended, or in-person with precautions like social distancing, temperature taking, hand sanitizing and mask wearing. This global pandemic continues to unfold and disrupt our daily routines.
To better understand this new order of things, we had a discussion with three of our doctors at the University of Nicosia Medical School: Dr Sioftanos and Dr Georgiou from the University of Nicosia Primary Care Clinic as well as Dr Mosquera from the Department of Primary Care and Population Health.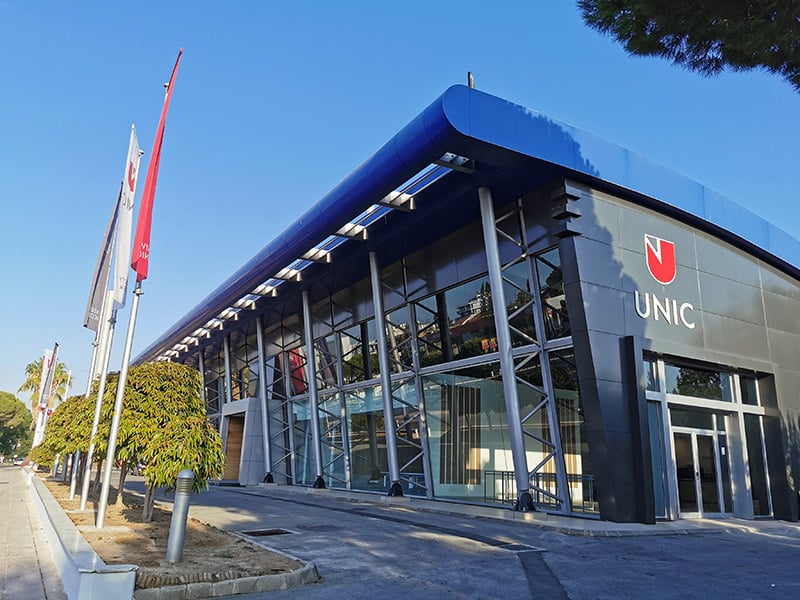 Q. How has healthcare changed for university students?
A. Around the world, we see a digital shift of healthcare services to provide online options to lower the risks posed by in-person interactions, to avoid spreading Coronavirus, and to make healthcare more convenient for patients.
At the University of Nicosia Medical School, we digitized primary care services for our students and community patients:
Telehealth appointments are done online in order to discuss symptoms and avoid unnecessary visits to the clinic,
Online booking appointments,
Requests for prescription refills online.
Q. If students are concerned about Coronavirus or have friends visiting and are worried, what do you advise?
A. Students can find support across multiple platforms:
We developed an online Coronavirus diagnostic tool to guide citizens through symptoms to better understand next steps if they've been exposed or if they develop symptoms.
There is a call centre that guides those who may be at risk of developing Coronavirus.
We have been working with the University of Nicosia to provide as much information as possible related to governmental policies, research and more through a dedicated Coronavirus website.
Q. Flu season is coming, what should students do to protect themselves?
A. Coming into this next flu season, people may panic as COVID-19 symptoms are oftentimes flu-like, so continue to follow health professionals' recommendations:
Don't walk-in to the clinic: call, check your symptoms, make an online telehealth appointment. While we've taken every precaution necessary, we still want people to avoid coming in unless absolutely necessary.
Get the flu vaccine. This is strongly advised and should eliminate the possibility of getting the flu this year.
If you belong to a high-risk group, continue to self-isolate and take precautions.

Students with Asthma, Diabetes, and other high-risk conditions should be taking good care of their health (i.e. taking medication, ensuring proper use of inhalers well before autumn).

Protect yourself.  Wash your hands often and thoroughly.  Limit unnecessary exposures.  Wear personal protective equipment appropriately, as and when directed.
Don't attend classes, if you're sick! Everyone has to be disciplined enough to not put others at risk.
Follow the directives of the Ministry of Health or government public health guidelines to protect yourself from contracting and/or spreading COVID-19.
Look after yourself.
Q. What would you suggest to new university students to 'look after yourself'?
A. There are many things you can do to make sure you are prepared to care for your physical and mental wellbeing upon your return to university:
Connect with your doctor at the start of the school year.  If you don't have a doctor, you can find a doctor within your university health care system.

Discuss your pre-existing conditions and have available supplies of any medicines and treatments you need.
Discuss how and if any pre-existing medical conditions you have might warrant extra care during the COVID-19 pandemic.
Take advantage of this time to optimize your lifestyle for health.  This can help both your physical and mental wellbeing:
You are not alone.  If and when you need it, seek help from your family, friends, colleagues, supervisor, instructor, or a health care professional.
The start of the academic year is an exciting time.  Take advantage of this time to focus on YOU, your first and most important patient! Your care and precaution are vital for the safety of yourself and those around you.
For more information about UNIC Medical School, you can e-mail admissions@med.unic.ac.cy, visit our website www.med.unic.ac.cy/ or give us a call: US (Toll Free) +1 (877) 298 8189, CY +357 22 471 999, AU +61 424 184 824, UK (Toll Free) 0800 031 5421.