Becky from Kitchener, Ontario, loves her university in Vancouver B.C. but even more than that, she loves to travel. When she saw a study abroad opportunity in the sunny capital of Perth, Australia, she knew she wanted to continue her studies while explore the amazing land down-under.
Studying Criminology and Anthropology at the University of Western Australia, Becky said she chose Perth's oldest university because of the interesting programs they offered and that the campus was on the banks of Perth city's stunning Swan River.
"Studying at UWA meant we had great views of the river and between classes I could have picnics with my friends or relax by Matilda Bay," she said.
"University life in Perth is very flexible, so when my friends and I did not have class, it meant there was always time to enjoy Perth's stunning beaches too!"
"The class sizes at UWA were also really small with less than 30 people in each class, which meant I got to engage in more group discussions and learn so much more about the Australian way of life and history."
Perth, the western gateway to the Australian continent, is a friendly, open capital city, and the economic powerhouse of Australia, with its commercial success underpinned by the world-class educational institutions and research faculties found in this city.
Along with being a city of growth and success, Perth also offers international students a dynamic mix of an exploding restaurant and laneway bar scene, and internationally-recognised festivals, cultural, and sporting events. And all this along with clear blue skies, pristine, clean beaches, beautiful parklands, and unique natural landscapes.
Perth has continually been rated as one of the world's top ten most liveable cities for ten years in a row (Economist Intelligence Unit, 2004-14) and in the top 30 Best Student Cities in the World (QS, 2013).
If Becky's love of Perth hasn't convinced you yet, here are more reasons why you should choose Perth, Australia, as your No. 1 study destination!
World-class education
Perth's five world-class universities provide quality-assured education with flexible study pathways. The state's practical approach to education, guided by teachers who are experts in their fields, ensures that you are taught the skills that employers are looking for in today's competitive world.
Research conducted in Perth is respected globally, reaching new horizons in medicine and health sciences, agriculture, chemistry, geology, metallurgy, engineering, astrophysics, renewable energy, and environmental management.
Our artists, musicians, and actors are also familiar to the world. Your study experience in Perth will not only provide you with learning, but also the possibility to be part of the growing academic and professional network which will guide the future of our city.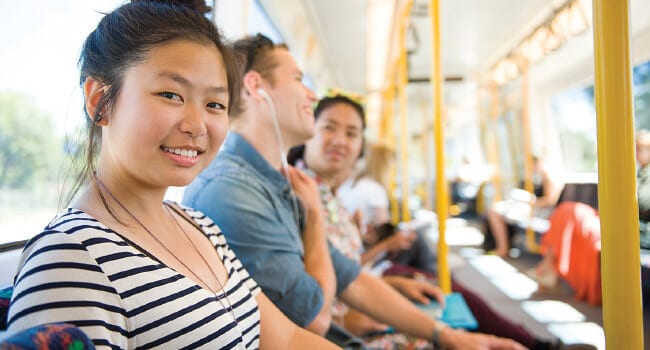 A lifestyle that's hard to match!
One of Perth's most attractive aspects is the combination of a vibrant atmosphere and relaxed lifestyle – it's a city where you can set your own pace and enjoy the things that appeal to you the most.
Despite being a highly developed, modern city, Perth is home to numerous nature reserves, parks, and recreational grounds that enrich its landscape. International students and locals alike appreciate the city's clean, safe atmosphere, and the high standard of living.
It's also one of the few cities in Australia that gives students a discount on public transport – 40% off bus, train and ferry tickets – and provides free travel zones within the city centre and other major precincts throughout Perth.
Perth has a Mediterranean climate with hot, dry summers, and mild, wet winters. It is the sunniest capital city in Australia, with clear blue skies an incredible 70% of the year! Our warm weather and clean air allow us to enjoy a year-round outdoor lifestyle, and we make the most of our state's natural beauty.
Work opportunities in Perth
The Western Australian education system has a key focus on practical work experience. Business schools and employers recognize the importance of allowing students to apply their skills in a real business environment, and work together to provide rewarding internship opportunities. A number of multinational organizations and some of Australia's biggest companies open their doors to interns, often inviting students to join them on a permanent basis at the end of their studies.
In addition, some of the postgraduate business programmes, like the MBA programme offered at Perth's five universities, have strong links with neighbouring Asian countries that include placements and internships as part of the course.
Western Australia's population accounts for just 10% of Australia's population, and yet it has 20% of the country's job opportunities – a testament to its economic prowess. For international students, this means that they can easily combine their studies with part-time employment, and with so many job opportunities available, most have no trouble finding a part-time job.
Perth is in the same time zone as one-third of the world's population, making the city a convenient headquarter for international corporations such as Rio Tinto, Chevron, BHP and Shell.
Under the Australian post-study work arrangements, graduates who have completed a Bachelor degree or a two-year Masters by coursework degree in Australia may be eligible to apply for a two year post-study work visa.
Graduates who have completed a Masters by research degree or a Doctoral degree in Australia may be eligible to apply for a post-study work visa for three or four years, respectively.
Your future in Perth
Perth is a city of growth, success, and possibilities. Recent years have seen the benefits of our resources boom flow into every part of our lives, from education to transport, and tens of thousands of people have come to see the natural beauty of Western Australia and enjoy its year-round sunshine.
In Perth, we value a balance of work and leisure in our lives and we make the most of Australia's open spaces with our city design and housing. The city centre is the home of business, as well as dozens of new bars, clubs, and restaurants. Surrounding entertainment districts provide relaxed environments for music, theatre, festivals, and cinema, and are minutes away from the peace and security of residential areas. Our Swan River, historic Fremantle port, and King's Park Botanic Gardens are the hub of outdoor recreation in the city, and our beaches are wide, pristine and welcoming.
Perth is at a unique point in its history and development. We are in a position to offer study choices, lifestyle benefits, and career possibilities not available anywhere else, and in one of the most naturally beautiful destinations in the world. An education in Perth is a chance to be part of this exciting new future, no matter your goals and interests.
StudyPerth is the first point of contact for anyone wishing to obtain information about studying and living in Perth, Australia.
Visit www.studyperth.com.au to learn more about your future in Perth and to use our free course, career or scholarship search function!
Contributed by:
Charlene Ellison, Marketing Manager at Study Perth
Charlene Ellison is a 'Perth-ite' who has studied, worked and lived in Perth, Australia since she was a youngster. Get in touch with Charlene for all your questions about the study experience and lifestyle of Perth, Australia!