Buenos Aires, Argentina, is a tourist destination which has exploded in popularity in recent years – and it's not difficult to understand why. Imagine a combination of South American culture with a strong European heritage within the context of a multicultural, cosmopolitan city.
Buenos Aires is more than just tango or soccer; it is a city with many years of history, a history whose story is told through each of its neighborhoods' unique architecture. From the very colonial feel of San Telmo and the majestic French air of Recoleta, to the impressive modern skyscrapers of Puerto Madero, Buenos Aires welcomes you to explore this history with its pleasant climate and proud residents, always happy to show you their personal Argentina. In addition, Buenos Aires serves as the perfect starting point and home base for your South American travels throughout the vast and varied landscapes and peoples of Argentina, as well as neighboring Chile, Brazil, Paraguay, and even Bolivia.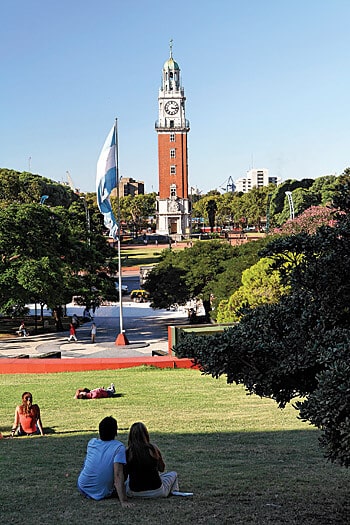 What makes Buenos Aires truly special is that more than just a destination for tourists, it is an ideal city for students as well. For the student of Spanish language or literature, or Latin American culture and politics, there is no better place to experience full immersion than in Buenos Aires. Apart from the traditional university semester and year-long programs that are both widely available and highly accessible, through intense Spanish language studies you can get a good grasp of the Spanish language quickly and put it to use outside of the traditional classroom environment. In Buenos Aires, the city is your most valuable classroom, allowing you to attain real hands-on experience practicing all the material typically taught in a language course. You will be motivated to integrate yourself into city life.
For a deeper perspective on Buenos Aires and its culture, a multitude of hands-on experiences are available. Those with a vocation for service will enjoy the opportunities within needy communities, while business-minded students will thrive on the internship options with Argentine companies, allowing them important international business and work experience. These opportunities provide invaluable experience actually using the language, rather than just simply studying it, all the while remaining fully immersed in the Argentine community and its customs.
For the persistent traveler, schools and institutes all over Buenos Aires offer TEFL (Teaching English as a Foreign Language) certification courses which enable students to finance a prolonged stay either in Argentina or worldwide as a certified English teacher. The doors that such a certification can open to the internationally-minded individual are endless. This is a wonderful way to supplement the costs of living in a big city while working with locals and putting native speaking skills to use.
A dynamic, multi-layered city, Buenos Aires is full of culture. Students will find it is easy to supplement any academic schedule with a well-rounded agenda full of Porteño cultural activities. What better way to practice your newfound Spanish skills than with some bartering at a local artisan fair? It seems as though every day of the week there is a concert to attend, futból (soccer) game to watch, new museum exhibit to visit or national film to see. Tourists will never lack for opportunities to experience these local flavors.
The birthplace of its iconic tango, Buenos Aires is an ideal setting for studying this national dance style. Whether it be in a formal dance studio environment or a more authentic milonga, where locals dance until the wee hours of the morning, a tourist here will be engrossed by this romantic and enchanting culture.
Soccer culture in Argentina will prove to be a shock to any student not accustomed to such die-hard commitment on behalf of the fans; the barra brava sections of the stadiums ooze intense devotion from start to finish of every game.
Fans of music and theater will love the continuous flow of new shows and productions taking place throughout the city: Avenue Corrientes is considered the Broadway of Buenos Aires and is not to be missed.
A growing number of artisan fairs have popped up all over the city's tourist-friendly and leafy-green neighborhoods, offering visitors a place to find that sought-after handmade or antique souvenir for family or friends.
In the neighborhoods of Palermo, Recoleta and Retiro, it seems as though there is a museum or art gallery on every block. In fact, every Friday night on Arroyo Street in Retiro, the art galleries open up their doors and welcome in visitors and locals alike. These "gallery nights" are a wonderful way to experience a more authentic side of Buenos Aires.
No overview of Buenos Aires would be complete without a nod to its incredible restaurants, bars and nightlife. In recent years, the gastronomic culture of the city has exploded, giving foodies a chance to dive in and sample some of the best food that Buenos Aires has to offer. In trendy neighborhoods such as Palermo and Las Cañitas, there are infinite options for those hoping to get a real taste of local flavor. Delicious parrillas serving up sizzling steak and bottle upon bottle of the famous Malbec red wine invite hours of long conversation with friends and get the night started before the hordes of young people party until dawn. Much like in any big city, there are more restaurants than days in the year, which is great news for those eager to get out and sample the local cuisine.
Nightlife in Buenos Aires starts late and ends even later. There truly is something for everyone in the noche Porteña, from jazz clubs and salsa dancing to all-night dance parties and local rock concerts. Hip lounges reminiscent of those in Manhattan are host to chic locals who dress to impress, and massive clubs such as Crobar and Pacha often have world renowned DJs such as Tiesto, Paul van Dyk and Armin Van Buuren spinning until the sun comes up. These parties border on the edge of hedonistic, and it's no wonder why people show up in droves. It is a unique blend of Latin essence combined with the sophisticated and cosmopolitan spirit that embodies the heart and soul of Buenos Aires.
It's easy to assume that the trip of a lifetime to Argentina would be anything but budget-friendly. However, Buenos Aires is a great student destination for those who are budget-conscious. It is one of the more affordable large cities in the world, and, as the exchange rate is quite favorable for the Canadian traveler, it is a realistic Spanish immersion and travel opportunity for all. A testament to this is the increasing number of expatriates currently traveling, studying, or working in Buenos Aires. In fact, you will not only learn about Buenos Aires and the Argentine people, but also open doors to the world by way of the different international travelers and students you will surely meet during your stay.
Whether you decide to study Spanish, volunteer, intern, teach English, or simply travel to Buenos Aires, it will be a simply unforgettable experience.
Contributed by:
Katharine Cuffari and Paige Nichols, Program Coordinators at Road2Argentina, a study abroad organization based in Argentina that specializes in Spanish immersion programs in Buenos Aires. www.road2argentina.com