For Melanie Murchison, a learning experience abroad led to a hunger for more.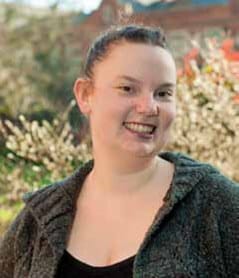 While studying law at the University of Winnipeg, she enrolled in a course called "Sites of the Ancient World," which involved a three-week trip to Greece.
"I've always wanted to travel and after getting my first opportunity I knew I wanted to do more of it," Melanie says. "It seemed like the best idea was to combine wanting to travel with getting more education."
She chose to complete a PhD in Law at Queen's University Belfast – and says she couldn't be enjoying herself more.
"I wouldn't change my decision to live abroad for a minute and I think it's absolutely something everyone should experience."
Getting started
There are a lot of destinations where you can study abroad, so Melanie focused on identifying the most suitable candidates. "Since I don't speak any second languages, I knew I would need to do my schooling in an English-speaking country," she says.
When it came to choosing a destination, inside information came in handy – many of Melanie's family members had visited or lived in the UK.
She turned her attention to researching programs in her field. "After communicating with potential supervisors, I wound up applying to three universities," Melanie explains. "After being accepted, I researched the financial aspects of the degree more thoroughly and had to decide where I thought I'd get the best supervision and support."
She travelled to Queen's University Belfast in September 2012.
Settling in
One of the most important details after choosing where you want to study is deciding on your accommodations – they play a big part in your daily routine!
Once overseas, Melanie faced the challenge of settling into her new home, having opted to live in a new postgraduate university residence on campus. "I wanted to be able to meet other international students and make friends with people in a similar position to me," she explains.
After a few months at Queen's University Belfast, she realized that this wasn't the right fit.
"I had been living on my own for three years previously, and I missed the independence and freedom that living on your own offers," she explains. Soon thereafter, she moved into an apartment and began a new routine.
"You need to trust your instincts," she says. "If you think something isn't quite right, ask someone or get clarification, but also trust in yourself!"
The right fit
With her living arrangements settled, Melanie quickly grew comfortable with her new surroundings.
"As an international postgrad, there were events and outings planned for us all the time," she says. "The people are super welcoming and friendly, I liked the university and it was a fairly easy adjustment."
Melanie admits that she suffered a little homesickness at first, but kept this at bay by fostering a cat and keeping in touch with family and friends online. She also benefitted from some familiar two-legged company!
"After finishing the first year of my PhD, my best friend from Canada flew over to Europe and we backpacked together through six countries for four weeks," she says. "It was something we had both wanted to do but I never thought we'd be able to do it together. It was amazing!"
Learning and growing
Melanie will finish her degree abroad in August 2015. She says that living abroad has offered her some unique career-building experience, working as a teaching assistant in Criminal Law and as a Legal Assistant at a local firm, Herbert Smith Freehills.
"Doing my PhD in the UK has afforded me opportunities to teach in a different country to students doing a different type of law degree than the ones back home," she explains. "It has increased my skill set and made me more versatile."
With this added experience, she's applying for jobs overseas to follow her degree. "My eventual goal is to be a full professor at a university in criminal justice or law," she explains.
Learning overseas has also helped Melanie learn more about herself.
"I think travelling or living abroad teaches you so much about yourself that you otherwise might never learn. I make my own decisions, work, study, manage my finances and (for the most part) keep everything afloat," she says.
"I learned that I am much more self-reliant than I gave myself credit for."
Her advice to an aspiring traveller?
"Do your research, plan ahead and absolutely do it. It's an amazing experience."
TalentEgg.ca is Canada's leading job board and online career resource for college and university students and recent graduates.