Many students travel abroad to gain an international perspective on their education. Some want to immerse themselves in a foreign language and culture. Others just want to see the sights.
Lauren Fee didn't spend a year at the University of Western Sydney (UWS) in Australia for any of those reasons, though.
Nope – she did it for love. Aw!
"I decided to study in Sydney for a year because I was in a relationship with an Australian whom I'd met while back-packing in Europe," she says.
"I thought that an exchange program through my university, SFU, would be an ideal way to immerse myself in life in Sydney and to see if I would really like living in Australia long-term."
Preparing to go Down Under
Lauren's travel abroad story is different from most in many other ways, too.
Lauren and her husband Geoff on a walk from Bondi to Coogee Beach in Sydney, Australia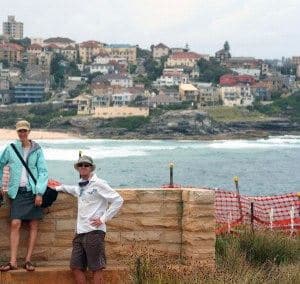 For one, she already knew someone who was from and lived in Australia: her then-boyfriend and now-husband Geoff, who told her a lot about what life was like there.
"It is such a similar country to Canada; it is a really 'easy' place to go live in for a Canadian," she says.
"My university, Simon Fraser, also provided some pre-exchange orientation with other students who were going overseas."
Lauren did the required legwork to obtain her visa and then she was on her way Down Under!
Living the beach-bum/student life in Sydney
As a child, Lauren says, she would look through travel brochures for fun and wish that, one day, she could live somewhere with bright blue water and white sand beaches.
Overlooking another beach in Bermagui, New South Wales – about five hours south of Sydney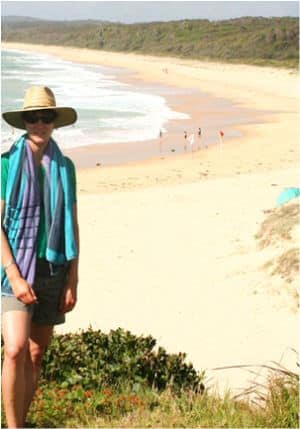 "Arriving in Sydney was like a dream come true," she remembers.
"Sydney is an amazing place to live. It has beautiful beaches and cliffs, friendly people, a busy cosmopolitan vibe and a great climate – especially for a water-logged Vancouverite."
She settled just two blocks from the famous Coogee Beach, popular for swimming and watersports. "It was fabulous," she says.
What wasn't so fabulous, however, was that the UWS campus was at least a one-and-a-half hour commute by public transit! Yikes. "Living so close to the beach that first year was worth it though!"
Speaking of UWS, it actually has six different small campuses scattered around Western Sydney, and that was a bit of a culture shock after Lauren's experience at SFU, which she describes as a "large, well-resourced, world-class university."
Overall, though, she found the academic side of things pretty easy, taking courses such as Statistics, Cross-Cultural Psychology and Australian History.
Adjusting to life in Oz
When she moved to Sydney, Lauren knew her trip probably wasn't going to be temporary, and that made her very, very homesick.
Climbing the highest peak in Australia: Mount Kosciuszko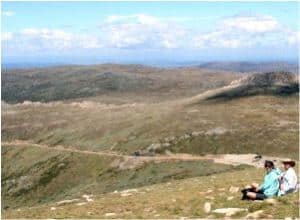 Despite all it has in common with Canada, Australia still has a different culture: "It took a while for me, as a relatively loud, open and gregarious Canadian, to understand the quieter and more reserved approach to social interactions expected in Australia," she reflects.
Who knew the Aussies were so tame?
Eventually, however, thanks to making friends and a home-away-from-home, Lauren's homesickness dissipated and she also learned to blend in a bit better.
"I now have wonderful friends in this country, many of whom I have known for the total time I've lived in Australia," she says.
That's right – Lauren's still living in Australia. She decided to take a break between her undergraduate and post-graduate studies to get married to and start a family with Geoff.
Ultimately, however, she'd like to become a Clinical Psychologist and plans to resume her education in 2015.
The perks of living and studying abroad
"It is a wonderful opportunity to experience something totally new, and a chance to challenge yourself by getting out of your comfort zone and seeing how well you adapt to life somewhere else," Lauren says.
The key, she advises, is going abroad with an open mind and an expectation that things will be different there than they are at home. "If you can do that, you'll be able to really grow and enjoy yourself while you are overseas."
TalentEgg.ca is Canada's leading job board and online career resource for college and university students and recent graduates.