Sometimes you need to leave home to find what you're really looking for. Victoria Kemp decided to study at the American Musical and Dramatic Academy (AMDA) in New York City because no other school in Canada could offer her a program strictly focused on musical theatre, dance, and acting, and provide the reputation, curriculum, resources, or the opportunities.  Follow her study abroad experience on how she took a leap of faith, grew as an artist, and pursued her dreams.
Training and Preparation
Before Victoria embarked on her exciting journey to America, she knew she had a lot of preparations to take care of, starting with preparing herself physically and mentally for "I had to relax and open my mind before I went, because I knew how different, and how eye-opening the program would be," says Victoria. Finally, she had to get her finances, student visa, and scholarship application in order.
The City That Never Sleeps
Victoria was attracted to New York City because of Broadway, because of the theatre, immersive arts, and the energy.
Victoria knew she would be in for a bit of a culture shift from what she was accustomed to in Calgary, Alberta. "In New York, there are more people, lights on all the time, sirens, and non-stop cars," she explains. "People always have somewhere to be, none have time to sit and ponder life." The fast-paced nature of the city grew on her, and she quickly found herself in love with the city. Every couple of city blocks seemed to offer her a new look, and a new culture.
"You never stop exploring and you never know what you will see or who you will meet," says Victoria.
Intense Classes
Victoria's classes were more intense than she imagined. Victoria recalls how surprised she was by how different the musical theatre and acting classes were from what she had imagined. "The real shock was how much there was to learn in such little time, how they teach, and how it just sinks into you," says Victoria.
Victoria was inspired by her teachers, who had many years of experience in the industry, and by her classmates.
"Being in a class with talented people who push you and make you want to do better, make you think, and create inspiration is really a gift," she explains. "Every day I felt I was learning just as much from observing my classmates work, as from the teacher."
Her friends have now become her family away from home and she's sure that her life would be completely different without them. To this day she remains in contact with them – bouncing ideas off them, helping find songs to use, or just giving advice when needed.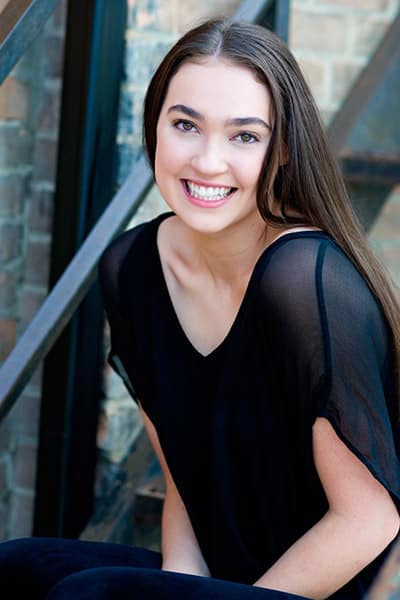 Reflections on Herself
In addition to all the skills she learned in class, Victoria says the most important thing she learned from being abroad is who she is. Being alone in a new country and a new school made her realize that only she could shape her future. This realization heightened her self determination and she discovered what she was actually able to accomplish when she put her mind to it. The experience of going to new places, meeting new people and, of course, plenty of theatre, allowed her to become richer as a person – and more importantly as an artist.
Looking Towards the Future
Victoria believes that her experience abroad helped to focus her ambitions. "It changed my view on what my career path might be, I learned what type of artist I was, what I could get hired for and what I can learn to do." In the next five years, she sees herself working on Broadway, The West End and on a cruise line.  She aspires to work in New York, London, and do a couple of international tours before she begins her film and TV career.
Victoria notes that everyone should consider studying abroad because maybe the path to your dreams isn't at home, it's abroad.
Victoria's Advice
Do it! Take leaps of faith, and risks because even if you fail you will have tried and gained a lesson from it. You only live once.
You should choose to study abroad for your future. It's a fun and amazing experience, but you also want it to improve your career aspirations and your education. So, make the choice to better you.
Prepare mentally before leaving, because it doesn't hit you until you step foot in the airport and realize what exciting adventure you're getting into!
Contributed by:
Christopher Bright, TalentEgg.ca
TalentEgg.ca is Canada's leading job board and online career resource for college and university students and recent graduates.