University of Melbourne veterinary medicine school student embraces practical work and Australian city-life experiences
Since she first started veterinary school at the University of Melbourne, Manya Miller has collected enough memories that would spill out of her suitcase. One such memory is set on an alpaca farm in country Victoria, the hub for her very first farm placement.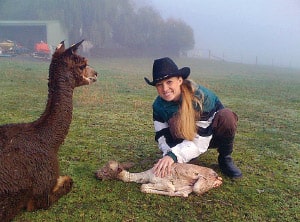 "There was this alpaca, who I affectionately named Fraggle, and he had a rough birth and ended up needing around-the-clock nursing," she explains.
Manya's dedication to Fraggle, which included 3 a.m. feedings, has become part of the memories and experiences she's garnered since she first moved to Melbourne more than a year ago.
Manya was in the first class of the University of Melbourne Doctor of Veterinary Medicine program, which was launched last year. The four-year, graduate-entry DVM degree offers veterinary students the best possible preparation for twenty-first-century careers in a rapidly changing and increasingly global workforce. Students can expect to learn the latest theory and practice, with plenty of practical, hands-on experience, taught by a team of leading veterinarians. Manya says her decision to study at Melbourne was simple.
"This is vet school; you get in and you sign your life over to higher education for at least the next four years. It is essential that you choose a university and teaching staff that reflect the type of doctor that you want to become," she explains. "Your choice will decide the environment, the animals, the people and the experiences you are exposed to. Here is where you will learn, network and grow as a doctor, and here is where you'll mould yourself into the person you've always wanted to be. I chose Australia because I crave adventure with my education and my fickle passions wanted to have a taste of the diverse nature the veterinary field has to offer. No other place in the world could have better satisfied my own personal needs in this area."
Now that she's in her second year, she's had the chance to understand what the university has to offer, and she hasn't been disappointed, particularly with the faculty.
"The professors at Melbourne come from all over the world and specialize in just about any area you can imagine. They are the cream of the crop and they've united under one roof to dispense their knowledge to new and upcoming veterinarians," says Manya. She adds that staff utilizes student feedback to improve any program glitches.
"The important thing is that the professors actively seek feedback and, in turn, take initiative to alter things as they see fit," she says. "I have an active role in my education here and that is something to be proud of!"
As for her life in Melbourne, she says it's impossible to get bored in the city.
"I see Melbourne as a kaleidoscope, with the people and overall scene changing with every turn," she says. "There is always someone who can recommend a place you haven't been and there are always new people arriving who will ask you, the local, for directions. The city adopts you and you can't help but feel at home."
She recounts one day when asking for directions turned into a friendship.
"One time I gave a lost gentleman directions on the tram. We were going the same way, it turned out, so we had a chat. He ended up being a famous painter who was here for a few months to open up an art gallery. He invited me out for drinks, dinner and to his gallery opening! We became friends and I got a firsthand explanation of some fantastic pieces of artwork. This city never fails to surprise me!"
From the alpaca farm to travelling to a New Zealand farm, Manya's had many opportunities to get firsthand experience. The placements bring out stories she loves to share with others, and she's proud to call herself a veterinarian in training.
"Little boys and girls always ask me what it is like to be in the veterinary field and I share with them my stories and adventures. I want to be a role model and someone I would look up to if I were on the outside looking in," she says. "It is a goal of mine to stay true to myself no matter how difficult or stressful things might seem. Overall, my goal is to be the best I can possibly be to pave the road to becoming the doctor I always dreamed I would be."
Contributed by:
OzTREKK educational services is an Application and Information Centre, providing information about academic programs and admissions requirements and process applications for admission to eight Australian universities, including the University of Melbourne. For more information please visit OzTREKK's website at oztrekk.com.