By Megan Brickley
Once again, international schools dominated the QS Global MBA Rankings.
QS provide these comprehensive rankings each year, ranking the universities on these factors:
Employability – 40%
Entrepreneurship and Alumni Outcomes – 15%
Return on Investment – 20%
Thought Leadership – 15%
Class & Faculty Diversity – 10%
Nunzio Quacquarelli, founder of QS, said that their rankings "seek to measure the key measures of Business Schools, whilst also taking into account what matters most to prospective students… Our innovative measurement of strength in entrepreneurship and successful alumni outcomes, provide a fresh length for the growing audience of prospective MBAs."
The USA dominated the rankings this year, with 51 of the top 100 schools, six of the top 10 and all top three schools are in the USA. The US MBA programs excelled in terms of entrepreneurship, alumni outcomes and thought leadership. The UK is the next best represented, accounting for nine of the top 100 MBA programs. Other than this, MBA providers in Spain, Germany, Hong Kong and Singapore have risen up the ranks in recent years. The top 10 schools are as follows:
| Rank | School | Location |
| --- | --- | --- |
| 1 | Stanford | United States |
| 2 | Harvard | United States |
| 3 | Penn (Wharton) | United States |
| 4 | London Business School | United Kingdom |
| 5 | MIT (Sloan) | United States |
| 6 | INSEAD | France |
| 7 | HEC Paris | France |
| =8 | Chicago (Booth) | United States |
| =8 | IE Business School | Spain |
| 10 | Columbia | United States |
According to QS, Stanford Graduate School of Business offers the best MBA program in the world. Founded in 1925, the MBA program has a 7.1% acceptance rate, making it the most exclusive of the Ivy League schools. Stanford offers a two year full-time MBA, as well as several dual degree MBA programs. One of the distinguishing factors of the MBA is the required Global Experience Program, which provides students with valuable overseas experience.
Ranked second and third are Harvard Business School and the Wharton School at the University of Pennsylvania respectively. The Harvard MBA aims to expose students to real-life challenges within a diverse community. In fact, diversity in the student body is a strong point of the program, with 42% women, 28% ethnic minorities, and 34% international students from 64 countries. The Wharton MBA also values international relations, offering a global consulting practicum, a global immersion program and global modular courses.
These results indicate that, if you are interested in taking an MBA, international schools could be a great option for you. This is particularly true considering that business operates in an increasingly global arena, and having an international network built from the experience of studying abroad is highly valuable in today's job climate. Thus, through taking your MBA abroad, you not only have the opportunity to attend a top international school, you will also gain the network and soft skills that will set you apart from your peers.
Come along to the Study and Go Abroad Fair to learn from several international universities about their graduate programs, including their MBAs.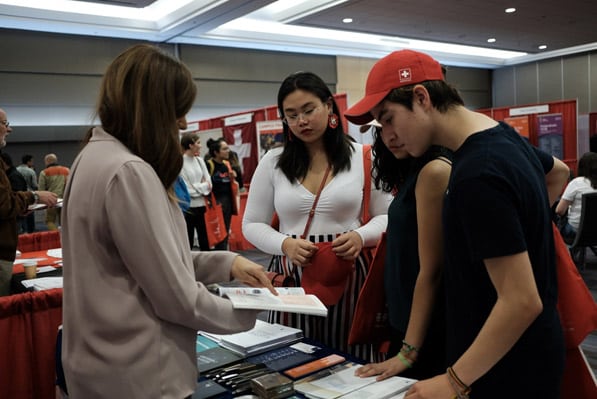 Sources:
www.prnewswire.com/news-releases/qs-global-mba-amp-business-mast…
qswownews.com/qs-global-mba-rankings-2019/