The University of Derby is an ambitious, innovative and modern university offering a real world learning experience which is of the highest standard. Studying with us enhances your career prospects, raises your professional status, broadens your global outlook and gives you a great sense of personal achievement.
Prestigious qualifications
The excellence of higher education in the UK is recognised worldwide. Tracing its origins back to 1851, the University of Derby builds on that outstanding tradition to offer you a distinctive learning experience and the high-level skills that will set you apart. Times Higher Education has ranked us in the top 1,000 universities in the world and international students rate us highly: we were the UK's second most recommended modern university in the 2016 International Student Barometer (ISB).
Excellent teaching
We have been awarded 'Gold' – the top rating – in the UK's first-ever Teaching Excellence Framework, placing us in the top 20% in the country. We are also proud to be named among the top 27 international institutions in the Global Teaching Excellence Awards and as a top 20 UK university for teaching quality in The Times and Sunday Times Good University Guide 2017.
Our focus: your employability
We put students on the path to their dream career: 81.1% of our international graduates secure jobs or further study within six months. (DELHE 2015). Your course will equip you with academic knowledge, practical experience and 'soft' skills, such as communication and leadership, which are sought by employers worldwide. As well, we offer extensive careers advice for up to three years after you have graduated.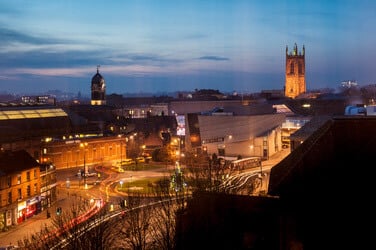 Real world learning
Your course will be up-to-date, industry-relevant and engaging. We specialise in real world learning, which means you will benefit from our strong employer links, courses with professional accreditation and projects where you can apply theory to practice. There are opportunities for you to go on placements and internships so that you can gain vital insights into the world of work and add impact to your CV. We offer guaranteed work experience for every full-time undergraduate student and some courses have an integrated industry year as standard.
Inspirational facilities
Our world-class learning environment makes Derby an inspiring place to study. We have invested £150 million in state-of-the-art facilities over the last ten years – so you will gain unrivalled hands-on experience, using industry-standard resources in authentic settings which replicate what you will encounter in your future career.
Outstanding support
There is a friendly welcome awaiting you at Derby. Our dedicated International Student Centre was ranked number five in the world in the International Student Barometer. The team offers services, advice and social activities which will help you settle smoothly into life in the UK. You will discover secure, affordable accommodation in our excellent halls of residence too. We received the Quality Mark for International Accommodation in the 2017 National Student Housing Awards.
Centre of it all
In the heart of the UK, the University of Derby is easy to reach by road, rail and air. Our main campuses are based in the vibrant city of Derby and the Peak District spa town of Buxton. They are friendly, culturally diverse and safe places, with high standards of living and prices much cheaper than in bigger cities. Offering a great social life when you want it but a relaxed, calm atmosphere when you need to concentrate, they are the ideal setting to enjoy your university experience to the full.