The world of work is changing. In the dynamic and diverse workplaces of the future, co-operation and collaboration will be key. Large teams of international researchers will join together to tackle global challenges. Come and get your head-start at Chalmers University of Technology, Sweden
At Chalmers, you'll experience a real taste of team­work, from planning and organisation, to final delivery and presentation. Through project-based learning, you will use your theoretical knowledge to solve complex, real-life problems, and develop your critical thinking skills as you work your way through them. You'll live, study, and work with students from over 70 countries, combining different cultural perspectives to broaden your horizons, and contribute to a worldwide network of research.
Independent thinking is expected here. With creativity and originality, you'll develop your own ideas, pursue your own goals, and think for yourself. In a relaxed and informal atmosphere, you can be open and honest with your fellow students and teachers, and work together in truly close collaboration.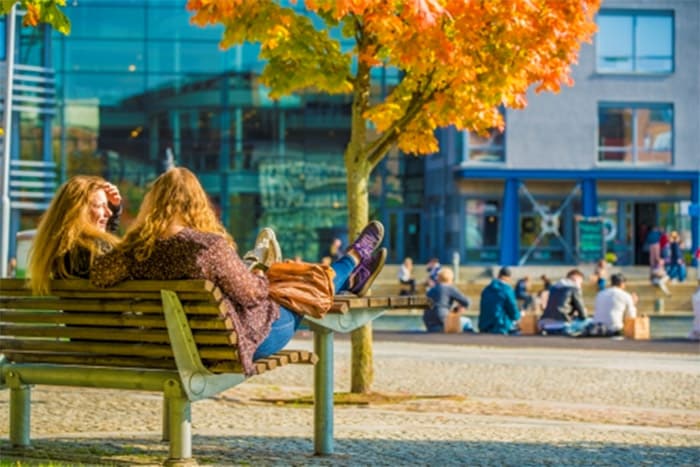 But more than this, you'll get the chance to experience a progressive, forward-thinking environment, making new friends, and enjoying a unique lifestyle in one of the most inspiring places you can imagine.
"Chalmers has fostered my curiosity and desire to embrace the global trend toward interdisciplinary studies and work. By collaborating with different fields, I believe that we can make a more powerful impact on our development of a more sustainable and technologically advanced future."
– Wade Rosko, Student from USA, Master's Program of Complex Adaptive Systems 2017-2019
Working for a Sustainable Future
One thing you'll encounter throughout your time at Chalmers is a strong focus on sustainability. All of our Master's programs address environment and sustainable development as a key component. The challenge of balancing the ecological, social and economic dimensions of sustainable thinking is one that we believe cannot be ignored, and as such, it influences everything we do.
Organisations like the Challenge Lab help place sustainable thinking right at the core of the Chalmers mindset. Challenge Lab is a space where students from different Master's programs can come together to collaborate, and consider questions and obstacles, and look to guide the society of today into a sustainable future.
#WeAreChalmers – come and join us!
Check our website for more information